Sir Bradley Wiggins "wouldn't put it past" Geraint Thomas to retain his Tour de France title next year.
Welshman Thomas over the weekend became the third Briton to win the event, following on from 2012 champion Wiggins and Chris Froome, his Team Sky team-mate who won in 2013, 2015, 2016 and 2017.
Speaking on Eurosport, Wiggins, also racing with Sky when he triumphed, said he feels Thomas "may now be Wales' biggest sports star".
He explained: "He's at that ripe age now, 32, he's matured as a person and an athlete and his laid-back approach will continue to carry him through.
"This success won't change him at all and I wouldn't put it past him to win again next year.
"This could be the start for him now, he's won the Tour and it will only drive him on to do it again."
Thomas – winner of two stages en route to his success, 11 and 12, with the first of those days seeing him move into the overall lead – insists he did not think about winning the whole race until the night before the penultimate stage.
"Winning the first stage was massive for the confidence, and backing it up the next day, winning on Alpe d'Huez in the yellow jersey, that was like 'what is happening? This is incredible'," Thomas said on Monday afternoon at a Q&A session in London shown on Sky Sports News.
"But I honestly didn't think about winning the race until the night before the time trial.
"I tried to just block everything else out and not get emotional, just thinking about the process, what you've got to do for the next climb, the next stage.
"And then suddenly you win and it is just like 'wow'. You just have this overwhelming emotion and it is just insane.
"For it all to come together like it did is just a dream."
When it was put to him that he was probably the most famous Welshman on the planet, Thomas said: "It seems that way. It's just bonkers.
"I stayed off Twitter and things during the race and went on after the time trial and it was just crazy. The support is just amazing."
Team Sky faced a backlash from some of the French public during the Tour, stemming from their recent dominance of the sport and an anti-doping investigation into Froome, which was dropped in early July.
Riders were booed and spat at by spectators, while Froome, who came third overall, was pushed by a spectator on Alpe d'Huez.
As he spoke about the riders who had supported him, Thomas said the abuse had been something that only increased the bond among the team.
"I've played that (support) role all my career almost, apart from this race, and everyone just dedicates themselves 100 per cent," he said.
"It's a massive commitment and dedication, and much appreciated obviously.
"We have just got a real good bond and we really sort of gelled as a team over the three weeks, especially with some of the abuse we were getting on the road – that really sort of brought us together as team."
Wiggins said of the hostility: "I think for Sky it spurred them on, there was a definite unity with them.
"This isn't the first time they've had this, they've had it for a few years now.
"Sky work the hardest as a team. Tour de France is the highlight of their season.
"It's not fair for them to be accused of being too dominant. Yes, they have big budgets and some teams can't compete with that, but you can't blame that on them.
"You can't blame Sky coming in and putting money into the sport."
– Watch over 35 UCI World Tour events, including the World Championships, plus all three Grand Tours and the five monuments, live and on-demand on the Eurosport Player. Visit www.eurosportplayer.com for more information.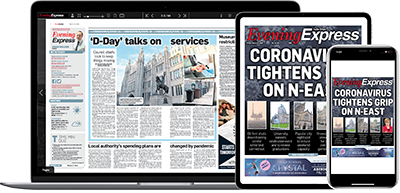 Help support quality local journalism … become a digital subscriber to the Evening Express
For as little as £5.99 a month you can access all of our content, including Premium articles.
Subscribe