Rochdale captain Lewis Palfrey has been admitted to hospital with a serious infection after sustaining a cut to the head.
Palfrey suffered the injury during his side's Betfred Championship match against Leigh on Sunday.
He was treated on the field and later had the wound stitched by the Leigh medical staff.
Several days later, the club say Lewis suffered considerable swelling to his face and eyes and was admitted to hospital, where he is being treated for periorbital cellulitis.
Hornets head coach Alan Kilshaw said: "Lewis got a cut above his eye, was strapped up and went back on and played.
"He was stitched up after but unfortunately he got an infection in the cut and he's really swelled up. Both his eyes are swelled to the point of being closed other than a little bit on his left eye.
"He's on a drip at the minute with some strong antibiotics. Because the swellings are that bad, nothing will be picked up on any scans at the moment so he's being monitored for the next few days.
"All our thoughts are with him, his partner Hollie and their son. We just hope the concern for him lightens over the next few days and he can get out of hospital. Hopefully he will make a speedy recovery."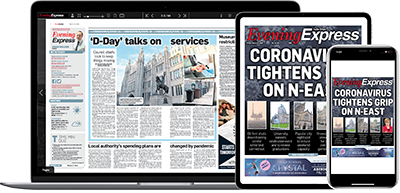 Help support quality local journalism … become a digital subscriber to the Evening Express
For as little as £5.99 a month you can access all of our content, including Premium articles.
Subscribe