A man playing basketball called the police because of a heavy challenge.
Twitter user Aaron has gone viral since sharing a picture of the incident, which happened at an LA Fitness in Virginia, US.
According to Aaron, the man who made the complaint is in a black t-shirt with his arms crossed behind the policeman on the right of the picture, while the man accused of committing the foul play is in blue shorts and shooting sleeves and his hands on his hips.
Aaron said the man stood up after a heavy challenge from the man in blue shorts and told those playing he was calling the police.
"We thought he was joking til we saw buddy at the front desk on the phone really calling the police," he wrote on Twitter. "Cop finally comes and brings them out the gym to talk like it was an elementary school fight.
"Wasn't even a foul for real. He fell from an aggressive screen."
Aaron told the Press Association that the game was between strangers and the two men involved in the foul hadn't met before.
"It was just poor conflict resolution to me," he said. "The policeman kind of just didn't want his time wasted because there's way more important things he could have been doing."
The local sheriff's office confirmed it was called to the incident, stating: "The Loudoun County Sheriff's Office was called to an assault in the 21000 block of the Dulles Town Circle on July 16, 2018 at 6.42pm.
"Neither party wished to pursue a report and there were no further issues reported."
Aaron used the success of his post, which has been shared tens of thousands of times, to ask for donations for his friend who has recently been diagnosed with cancer.
"The message I think that can be learned from this is just that police aren't to be called for when someone is just upset and there's no actual crime," said Aaron. "There's too much going on today with the unarmed shooting of people of colour for situations like this to happen.
"I think this teaches people that they need to be mindful that police have a job to do and won't be able to continue to do it effectively if they're called for fouls in a pickup basketball game."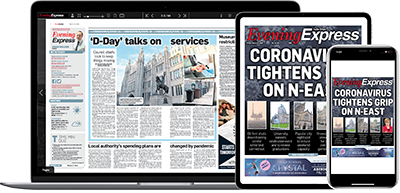 Help support quality local journalism … become a digital subscriber to the Evening Express
For as little as £5.99 a month you can access all of our content, including Premium articles.
Subscribe