Jose Mourinho has warned his in-form Chelsea stars that they must see off Schalke on Tuesday and ensure they do not end up in the Europa League come the new year.
The Blues sit top of the Barclays Premier League after 12 games and are unbeaten so far this season across all competitions.
A Champions League victory over Schalke in Gelsenkirchen will see Mourinho's side qualify from Group G in a game that takes on extra significance as the German side are now coached by former Chelsea player and manager Roberto Di Matteo – the only man to deliver the European Cup to Stamford Bridge.
Mourinho has won the competition with Porto and Inter Milan but has been unable to lead Chelsea to the crown in either of his two spells in west London and the Portuguese was in no mood to talk about Di Matteo's achievements in his press conference previewing the Schalke clash.
Instead he focused on delivering a stark warning to his side, insisting they must not take their foot off the gas and believe they are cruising into the knockout stages.
"I am not here to speak about Roberto Di Matteo, I am here to speak about the game tomorrow," he said.
"The reality is we need points. I think this team is one state of its evolution where to go into the Europa League would be very bad. A team gets better and the evolution is faster when you play in the best competition against the best teams.
"Maybe we drop into Europa league. If we lose two matches we go into the Europa League. It makes no sense to talk about quarter-finals or anything else.
"We need points to play in the Champions League and that is why we are here, we are here to get points."
Mourinho derided a tournament such as the Europa League when it was won by his predecessor at Chelsea, Rafael Benitez and it is clear he does not want to be leading his team into Europe's second-tier competition.
And, with a calendar bustling with fixtures heading into December and the new year, the 51-year-old wants qualification sewn up at the earliest opportunity.
"We have two matches, but obviously it would be better for us to qualify tomorrow," he added.
"We have so many matches in December that if we can avoid a crucial match against Sporting to decide Champions League qualification and that pressure, it would be very good for us.
"The players are playing very well, the team is playing really well. Nothing comes for free, or with luck. Even the draws we've had were matches we were closer to win than to lose.
"We missed a penalty at Maribor, and conceded a last-second goal against Man United. We are getting good results because the players are doing very well."
Thibaut Courtois will be hoping to retain his place in Chelsea's goal for the game at the Veltins Arena and the Belgium international was out on loan at Atletico Madrid during Di Matteo's tenure so attaches no added sentiment to the tie.
"I was not there when that happened," he replied when asked about Chelsea's Champions League triumph under the Italian.
"For me it is different from other players who played under him. I was at the time under Atletico and they won the Champions League with him so maybe for the other players they will be happy to see him again but the most important thing for us is to win the game.
"After the game they can be happy with him but we have to be focused and win the game."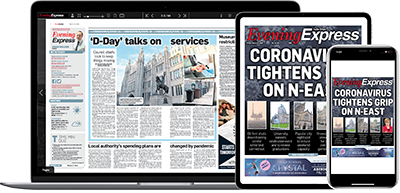 Help support quality local journalism … become a digital subscriber to the Evening Express
For as little as £5.99 a month you can access all of our content, including Premium articles.
Subscribe