Carlisle boss Chris Beech was visibly relieved as his team finally "turned up" having misfired their way through a disappointing start to the delayed season.
First-half goals from strike partnership Omari Patrick and Josh Kayode sealed the deal for the Cumbrians, in front of 1,000 fans allowed into a game designated as an EFL test event, with Southend rarely managing to find any kind of purchase in the opposition half.
"I'm really pleased for the players, and for the fans, because there was so much positivity leading into the season," Beech said, having urged his team on noisily from the dugout.
"Our part of the bargain is to produce performances which represent the Carlisle people.
"I'm not saying we haven't done that in our previous games, but we've been guilty of shooting ourselves in the foot, despite having played well.
"I'm delighted that we've put that right, because it can start to dwell on minds and people naturally begin to question what's going on.
"We started slowly, we got our goals, great goals from our strikers, and suddenly we've relaxed and we're enjoying ourselves.
"I've told the lads so many times they need to believe in what they do, and not to hide away if things go wrong.
"The good thing was that our fabulous fans were back, and they were behind the lads for every kick and header. As a club the test seems to have gone well and I just hope that means, situation allowing, that we can get even more back as we go on from here."
Patrick's deflected volley saw him open his account for the season on 36 minutes before Kayode worked space to sweep a neat finish into the bottom corner three minutes later.
For Southend boss Mark Molesley, newly installed into one of the toughest jobs in football with a club that is still being chased by the tax man, it was another reminder of the size of the task ahead.
"We've come up a little bit short today," he said. "I thought we started the game really brightly and fashioned a few good openings, but the first goal was always going to be key.
"Both teams had opening-day defeats so that was always going to be important. Unfortunately they benefited from a ricochet off a shot from the edge of the area.
"We found ourselves a goal down then got done on the counter-attack. We lost the ball on the edge of their area and they've got a very athletic front three which meant they went on to get the second goal."
Molesley's team failed to register a single shot on target through a lacklustre second period of play.
"In the second half we huffed and puffed a little bit, but we didn't quite create enough," he said.
"We're a young group and we're learning, and the only way you learn is through hardship. Some of the decision-making at times wasn't the best, but that comes with a young side.
"You can see that we're a work in progress at the moment, but we are working very hard."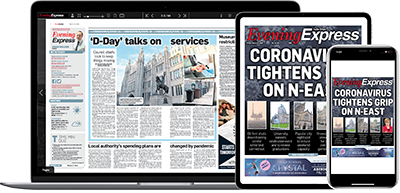 Help support quality local journalism … become a digital subscriber to the Evening Express
For as little as £5.99 a month you can access all of our content, including Premium articles.
Subscribe