It will be "extremely difficult" to hold the London Marathon this year amid the coronavirus pandemic, the founder of the Great North Run Brendan Foster has said.
Foster's event, due to be staged on September 13 with a record 60,000 adult participants, was cancelled on Monday due to the insurmountable challenges posed by the Covid-19 outbreak.
A decision on whether this year's London Marathon – already postponed from April to October – can go ahead is expected to be made on Sunday.
"Mass participation events in the form that ours takes, and the London Marathon takes, are clearly going to be extremely difficult to hold and it's going to be up to us to find a formula for the future," he said.
Over £20million was raised for charity by last year's Great North Run, and Foster admits the sector will be "hurting" as a consequence of the cancellation.
Foster said it would have been impossible to make the race Covid-secure, adding that the start line "would have stretched from Newcastle to Berwick" with two-metre social distancing in place.
Organisers are now focusing on making next year's edition, already scheduled for September 12, the biggest and best event possible and Foster says the desire to race is in-built in mankind.
"It's in our DNA to run, and to run in groups. We have been doing it for two million years, so there's no way that a pandemic like this is going to blow away man's endeavour in terms of running, and running together," he said.
"Running together has been there for two million years, this isn't going to stop it."
Another consideration in cancelling the race was the pressure on health workers, with over 500 having previously volunteered their time to take care of any participants who suffered any medical issues.
"We're obviously very sad and disappointed, but putting it in perspective we're not in pain and anguish like people who have had the disease and nor are we devastated like families who have lost loved ones," he said.
"It is a blow but it is nothing like others have suffered."
Organisers are working on an extension of the Great Run Solo virtual project, which challenges runners of all abilities to set particular targets and raise money while doing so.
The Great Manchester Run on September 6 has also been cancelled, with the next edition of the race set for May 23, 2021.
Golf's European Challenge Tour has announced it will resume with two dual-ranking events in Austria in July.
The Austrian Open will take place at the Diamond Country Club from July 9-12, with the Euram Bank Open at Golf Club Adamstal from July 15.
Both events will share ranking points with the European Tour, which will resume its own 2020 season with the British Masters at Close House from July 22.
Jamie Hodges, head of the Challenge Tour, said: "We will continue to be guided by the European Tour's medical health strategy and we will announce details of subsequent 2020 Challenge Tour events in due course."
Darts officials insist they have not given up hope of staging next month's PDC World Matchplay in front of a crowd at Blackpool's Winter Gardens.
The PDC says it is awaiting Government advice before determining how to proceed, with another option switching the event to the Marshall Arena in Milton Keynes, which recently staged snooker's successful behind-closed-doors return.
PDC chief executive Matt Porter told The Darts Show: "Although we've had a few people scoffing at us, we haven't given up hope of a crowd in Blackpool and that's purely because the Government hasn't given up hope of allowing public gatherings to take place again.
"We're expecting an announcement on July 4th – it is not our decision. We are in the hands of other people and we will be led by what the decisions from above are."
Meanwhile, World Rugby hosted a 'professional game forum' to discuss the effects of coronavirus on the global calendar.
Representatives from 12 major nations, a host of elite leagues and other confederations discussed potential ways to reform the fixture list for the remainder of 2020 and, as World Rugby later confirmed, "exchange frank views".
With so many competing interests it was unlikely that the meeting would end with a clear agreement and the concluding statement acknowledged the "absence of full alignment". A final decision on how to proceed for the remainder of the year will be voted on by the World Rugby Council on June 30.
"All stakeholders believe that a meaningful reform of the international calendar is necessary in a much-changed post-Covid-19 environment to revitalise the global game and deliver much-needed alignment between international and club rugby with fewer overlaps and enhanced player rest periods," read the statement.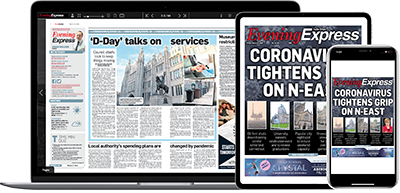 Help support quality local journalism … become a digital subscriber to the Evening Express
For as little as £5.99 a month you can access all of our content, including Premium articles.
Subscribe