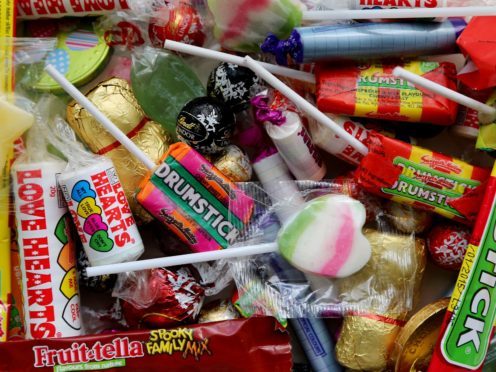 Vloggers and social media platforms must take responsibility for content which may be encouraging young people to eat more, scientists have said.
Children who saw YouTube stars such as Zoella promoting unhealthy snacks went on to consume over a quarter more calories (26%) than those exposed to non-food products, according to a new study.
Young people need more protection online, the researchers said, particularly on social media where the lines between adverts and genuine content can appear blurred.
The findings, presented at the European Congress on Obesity in Vienna, Austria, come amid growing calls for tougher restrictions on junk food advertising to tackle the obesity crisis.
Dr Emma Boyland, one of the researchers from the University of Liverpool, said children place significant trust in vloggers and view them as "everyday people" much like their peers.
"There has to be some responsibility along the line," Dr Boyland said.
"They've earned a position of trust among young people, and to then behave in a way that we are demonstrating would harm the health of those children should be highlighted."
The study examined the responses of 176 children aged between nine and 11 to images taken from the Instagram pages of Zoella and Alfie Deyes.
The internet stars were seen promoting either unhealthy snacks, such as Bounty chocolate bars and Cadbury Chocolate Fingers, healthy foods, or non-food products.
The participants were then given four items to choose from – grapes, carrot sticks, chocolate buttons or jelly sweets – and given time to eat as much as they wanted.
Children who had seen promotions for unhealthy foods ate an average of 448 calories, while those exposed to non-food products consumed 357 calories, the study found.
Those who saw fatty or sugary foods promoted ate around 385 calories in unhealthy snacks, 32% more than those who did not see food promotions.
Meanwhile, those who saw healthy foods being promoted did not show significantly increased intake of the healthier options.
"Children regularly watch vlogs and follow vloggers on social media. As a result they are exposed to foods that are high in fat salt and sugar," the authors said.
"The results of this study have shown that exposure to these foods does increase energy intake in children.
"Children require further protection from online food marketing, especially on social media where it is difficult to differentiate an advert from genuine user-generated content."
Dr Boyland said children were increasingly watching content on several screens at the same time, including TV, tablets and mobile phones.
However online adverts can be harder to detect than those on more traditional formats, she warned.
"A lot of the discussion around how to regulate digital marketing is around the fact that children, anyone, finds it increasingly difficult to discern what is advertising content versus other forms of content," she said.
"On TV there are a lot more cues as to when it's advertising – there's an advert break, there's a jingle.
"Whereas digitally, by its own nature, it's a lot more embedded in the rest of the content."
While guidelines state vloggers should indicate if they were paid to promote a product or service in their content, further research is needed to see if this has an impact on young people's behaviour, she said.
Professor Jason Halford, of the University of Liverpool and treasurer of the European Association for the Study of Obesity, called on social media platforms to do more to protect children.
"The platform is responsible because this is advertising, it's targeted advertising, and the vlogger themselves is responsible," he said.
Professor Russell Viner, President of the Royal College of Paediatrics and Child Health, said: "It's vital that children are protected from the marketing of junk food, not only on TV but also online where they are increasingly spending time.
"This study shows that children are influenced by unhealthy food advertising through modern media just as they are on television.
"Companies are able to target their adverts on social media, which does provide the opportunity for regulators to put restrictions in place.
"It is certainly something that needs to be seriously considered as part of the forthcoming 'chapter two' of the Government's obesity plan."