Twelve boys and their football coach who were rescued from a cave in northern Thailand have spoken to journalists from around the world after their dramatic rescue.
Looking healthy after their 18-day ordeal, the boys recounted the moment they were first found by British divers helping the rescue effort in the Tham Luang caves in Chiang Rai province.
The Wild Boars team entered the news conference to applause from reporters and classmates and put on a quick demonstration of their skills on a miniature football field set up in the hall where they met the media in Chiang Rai.
They then hugged their friends before taking seats up front with doctors and members of the Thai navy SEAL unit who dived to help bring them out, along with others who helped them during their ordeal.
Doctors said the 13 were healthy in body and mind.
They added that the boys had gained around 6.6lbs on average since they were rescued from the cave, having lost an average of 9lbs during 18 days trapped in the cave.
The news conference was the first opportunity the members of the team had to speak directly to the media, though video of them was released previously. Officials reviewed questions in advance to make certain none might cause damaging psychological effects.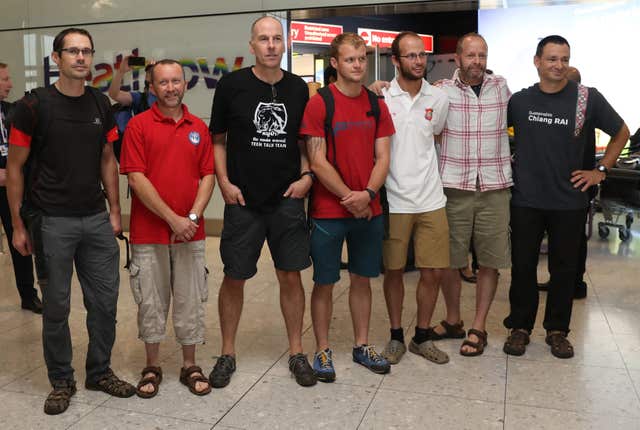 They were asked about the moment when two British cave divers first found them and also the circumstances of how they entered the cave and became trapped there.
The Wild Boars team had entered the Tham Luang cave on June 23 for what was to be a relaxing excursion after football practice. Heavy rain began falling while they were underground, and water filled the caverns, cutting off their escape.
British divers found the group huddling on a spot of dry ground deep inside the cave nearly 10 days later, hungry but generally healthy.
An international team of rescuers using diving equipment and pulleys extracted the 12 boys, who range in age from 11 to 16, and their 25-year-old coach through the tight, flooded passageways over three days, concluding on July 10.
Some of the boys were treated for minor infections during their hospital stay, but all 13 have been described as recovering well.
The family of one of the boys is preparing their home for his return on Wednesday night.
Banphot Konkum, an uncle who has raised 13-year-old Duangpetch Promthep, said he will have a renovated bedroom and gifts awaiting him.
"We'll do whatever he wants. If he wants anything we'll buy it for him as a present as we promised that when he gets out, whatever he wants we'll do it for him," Mr Banphot said.