Top American and North Korean officials are holding a full day of meetings in New York aimed at deciding whether a summit between President Donald Trump and North Korean leader Kim Jong Un can be salvaged.
Ahead of the meetings, Secretary of State Mike Pompeo and the North's former military intelligence chief Kim Yong Chol had dinner on Wednesday night.
Kim had flown in from Beijing and Mr Pompeo from Washington.
It is the highest-level official North Korean visit to the United States in 18 years.
Kim, the former military intelligence chief and one of the North Korean leader's closest aides, landed mid-afternoon on Wednesday on an Air China flight from Beijing.
During his unusual visit, Kim had dinner for about an hour and a half with Mr Pompeo.
The two planned a "day full of meetings" on Thursday, the White House said.
Their talks will be aimed at determining whether a meeting between Mr Trump and Kim Jong Un, originally scheduled for June 12 but later cancelled by the president, can be restored, US officials have said.
"Good working dinner with Kim Yong Chol in New York tonight," Mr Pompeo tweeted on Wednesday. "Steak, corn, and cheese on the menu."
The talks come as preparations for the highly anticipated summit in Singapore were barrelling forward on both sides of the Pacific Ocean, despite lingering uncertainty about whether it will really occur, and when.
As Kim and Mr Pompeo met in New York, other US teams were meeting with North Korean officials in Singapore and in the heavily fortified Korean Demilitarised Zone.
"If it happens, we'll certainly be ready," White House spokeswoman Sarah Huckabee Sanders said of the Singapore summit.
Regarding the date for the meeting, she added: "We're going to continue to shoot for June 12."
North Korea's flurry of diplomatic activity following a torrid run in nuclear weapons and missile tests in 2017 suggests that Kim Jong Un is eager for sanctions relief to build his economy and the international legitimacy the summit with Mr Trump would provide.
However, there are lingering doubts on whether Kim will ever fully relinquish his nuclear arsenal, which he may see as his only guarantee of survival in a region surrounded by enemies.
Mr Pompeo, Mr Trump's former CIA chief, has travelled to Pyongyang twice in recent weeks for meetings with Kim Jong Un, and has said there is a "shared understanding" between the two sides about what they hope to achieve in talks.
South Korean media speculated that Mr Pompeo could make a third trip to Pyongyang and that Kim Yong Chol was carrying a personal letter from Kim Jong Un and might push to travel to Washington to meet with Mr Trump.
North Korea's mission to the United Nations in New York is its sole diplomatic presence in the United States.
That suggests Kim might have chosen to first go to New York because it would make it easier for him to communicate with officials in Pyongyang, North Korea's capital.
North Korea and the United States are still technically at war and have no diplomatic ties because the 1950-53 Korean War ended with an armistice, not a peace treaty.
Mr Trump views a summit as a legacy-defining opportunity to make the nuclear deal that has evaded others, but he pledged to walk away from the meeting if he believed the North was not serious about discussing dismantling its nuclear programme.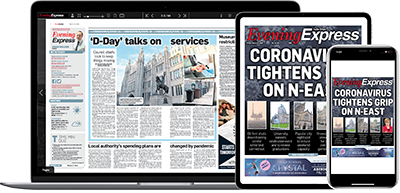 Help support quality local journalism … become a digital subscriber to the Evening Express
For as little as £5.99 a month you can access all of our content, including Premium articles.
Subscribe