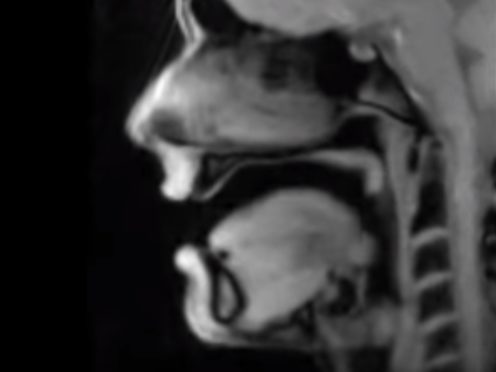 Ever wondered how your mouth moves when you are speaking?
Maybe not, but this clip from the Max Planck Institute shows you live movements in the mouth and pharynx during speech.
The video is an early demonstration of one of the breakthroughs achieved by Jens Frahm, director of the institute's Biomedical NMR Research, and his team.
The German researcher is nominated for the European Inventor Award 2018 – after finding a way to capture real-time MRI (magnetic resonance imaging) using a procedure known as FLASH2.
The clip was released following the news of Dr Frahm's nomination for the inventor award.
These days magnetic resonance imaging, or MRI, is used to examine almost any part of the body – from the brain and spinal cord to internal organs such as the liver, womb or prostate gland.
But things were different three decades ago when the technology was simply too slow for use in medicine.
Current MRI tests use powerful magnets, radio waves and a computer to make detailed pictures inside your body.
Dr Frahm's FLASH2 procedure takes the method a step further by filming in real time: This MRI clip, for example, shows the natural movements of the rib cage with respiration and heartbeat clearly visible.
According to the institute, FLASH2 technology "uses a new mathematical process for image reconstruction and thus manages only a few individual measurements per image.
"The technique significantly accelerated MRI scans once more and allowed for up to 100 frames per second."
FLASH2 currently is being tested for clinical use at various hospitals in Germany and abroad.
The winners of the award will be announced on June 7 2018 in Paris, France.