Sir Cliff Richard's court win and Boris Johnson's speech to the Commons top the headlines on Thursday.
The Daily Mail reports that Sir Cliff has called for BBC chiefs to lose their jobs following a landmark court battle against the broadcaster.
The singer said the BBC had acted as his "judge, jury and executioner" as the High Court ruled the corporation had breached his privacy with its reporting of a child sex claim against him, the paper says.
The Daily Mirror questions whether the result marked a "bad day for justice", saying experts feared the ruling against naming him as a paedophile suspect could protect the guilty in other cases.
The Sun says the ruling threatens to gag free speech, running with the headline: "It's not funny…we can't talk anymore", while the Daily Star reports that Sir Cliff said he now "won't go near children" due to the TV coverage of a police raid on his home.
Meanwhile, several papers feature Mr Johnson's first parliamentary speech since his resignation as foreign secretary.
The politician declared that it was "not too late to save Brexit", the Daily Telegraph reports, while The Guardian describes it as a "stinging" speech, but one that stopped short of a leadership challenge to Theresa May.
The Daily Express reports that Mr Johnson urged Mrs May to tear up her Chequers plan and return to her "glorious vision" of a truly independent Britain.
The Metro says the MP accused the PM of "18 months of dithering", while the Independent reports that he called her Brexit plans a "democratic disaster".
Staying on the Brexit theme, The Times leads on Mrs May's plans for a tour of Britain in the summer in an attempt to convince sceptical Tory members to back her plan for leaving the EU.
Elsewhere, the Financial Times reports that Google has accused Brussels of trying to dismantle its business model for smartphones after it was fined 4.34 billion dollars (£3.9 billion) by the European Commission for breaching EU anti-trust rules.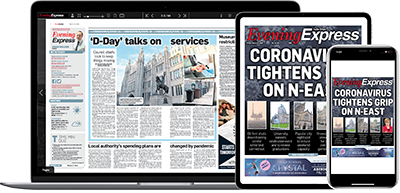 Help support quality local journalism … become a digital subscriber to the Evening Express
For as little as £5.99 a month you can access all of our content, including Premium articles.
Subscribe