Four of the country's biggest housebuilders will have to change the way they do business or face being taken to court by the competition watchdog after it found evidence that they had mistreated home-buyers.
The Competition and Markets Authority said it has written to Barratt Developments, Countryside Properties, Persimmon Homes and Taylor Wimpey after uncovering "troubling evidence of potentially unfair terms".
The regulator said buyers may have been misled by developers, and been trapped into leaseholds with ground rents that double every decade.
"It is unacceptable for housing developers to mislead or take advantage of home-buyers. That's why we've launched today's enforcement action," said CMA boss Andrea Coscelli.
A leasehold gives the buyer the right to own the property for a limited period of time – meaning that it loses part of its value as years go by.
As the freeholder still owns the land that the leaseholder's house is on, the freeholder will often charge rent for the land, a so-called ground rent.
If someone falls behind on these rents, their home can be repossessed – making banks more cautious when they lend to leaseholders.
Yet the CMA said that developers did not clearly explain to buyers what ground rent is and how much it can increase over time.
Around 10,000 home-owners live in a property where the ground rent doubles every decade, and many others face smaller, but significant rises, according to the watchdog's estimates.
Some buyers were told they could only purchase a leasehold property on a newly-built estate, only to see their neighbours become freeholders, the CMA said.
Others were told they could buy the freehold after a couple of years, but when they tried the price had rocketed.
Housing Secretary Robery Jenrick said: "Shameful practices of the kind set out by the CMA have no place in our housing market and we are going to put an end to them.
"I strongly welcome the action to tackle mis-selling in the leasehold sector and want to see home-owners who have been affected by crippling ground rents swiftly obtain the justice and redress they deserve."
Barratt, Taylor Wimpey, Persimmon and Countryside all pledged to co-operate with the CMA's investigation.
The first two said they were committed to their customers, while Persimmon said it had stopped selling leaseholds where it owns the freehold in 2017.
Taylor Wimpey said it takes the issue seriously.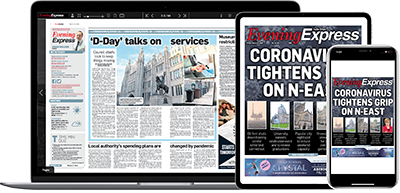 Help support quality local journalism … become a digital subscriber to the Evening Express
For as little as £5.99 a month you can access all of our content, including Premium articles.
Subscribe