Mary Lou McDonald has urged the Orange Order to think again after it snubbed her offer of a meeting.
The Sinn Fein president said leaders should lead from the front.
The Order rejected a call to invite her to its annual Twelfth of July celebrations because it would insult the memory of hundreds of murdered members.
Ms McDonald said: "At this stage, in the year 2018, the notion that you are not going to talk to your neighbour, the notion that you are not going to talk to somebody in political leadership, that you are not going to tease out contentious issues, is simply not a runner.
"I don't think that is a sustainable position."
She said she would welcome the opportunity for a respectful discussion in an official capacity.
"I think it is important that leaders in politics and leaders in society lead from the front and I think it is important particularly with the (Stormont) institutions down and Brexit and all of the uncertainties.
"I think it is very important that people across society can see that people with fundamentally opposing ideas, people with deep, deep suspicion perhaps, can actually be adult enough, respectful enough, to sit down and meet."
The Order's Grand Lodge has said it has a long-standing policy of not meeting with Sinn Fein, which had an association with the IRA during the conflict.
Ms McDonald has previously said she was sorry for the "hurt" suffered by the Order's members during the Troubles. Around 300 members were killed.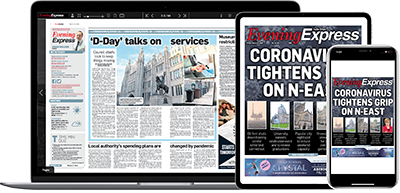 Help support quality local journalism … become a digital subscriber to the Evening Express
For as little as £5.99 a month you can access all of our content, including Premium articles.
Subscribe