Sinn Fein's leader has accused the Government and DUP of prolonging Stormont's powersharing crisis to allow an unreflective view of Northern Ireland to be presented in the Brexit debate.
Mary Lou McDonald said while she was prepared to re-enter talks with the DUP to find a resolution to the 19-month impasse, she said the terms of a draft deal Sinn Fein insists was struck in February remained the "bottom line" for any fresh negotiations.
Branding the failure to restore powersharing a "disgrace", the Sinn Fein president suggested the deadlock suited Prime Minister Theresa May and her DUP confidence and supply partners because it meant the outcome of the Brexit referendum in the region, 56% Remain, was not being effectively presented at governmental level.
"I think it suits the DUP and the British government not to have institutions in the north for the simple reason that the DUP are very much out on their own on the issue of Brexit, they are not reflecting the views of the majority of people in the north on this matter, far from it," she said in an interview with the Press Association.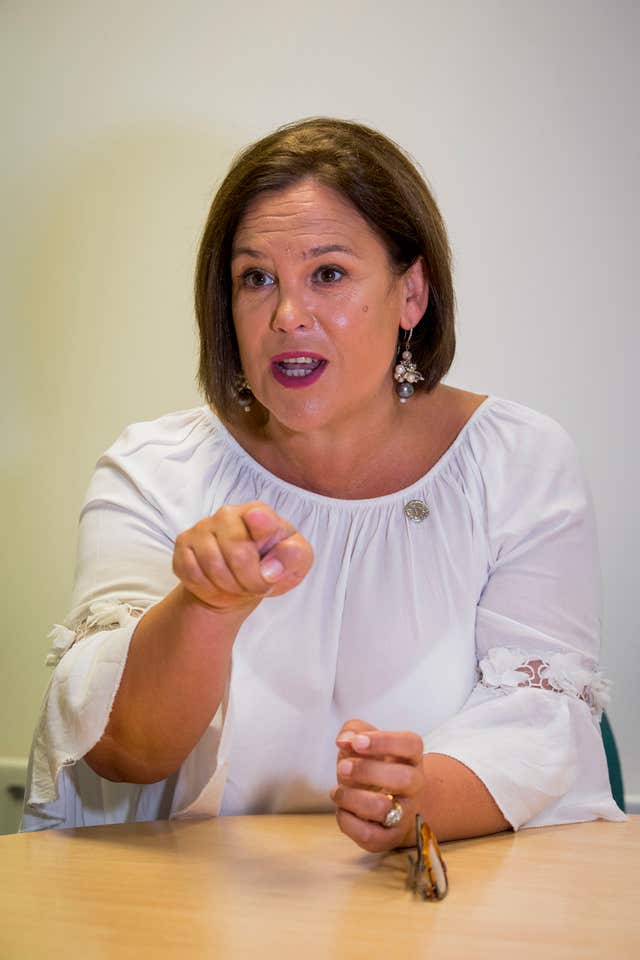 "In fact they are acting in defiance of the views of the people of the north.
"It would be preferable to have the institutions up and running where that political reality could be writ large."
Stormont crashed in January 2017 amid a row about a botched green energy scheme.
It later widened to take in issues such as the Irish language, LGBT rights and the legacy of the Troubles.
The last talks bid to resurrect the troubled institutions crashed in February when the DUP pulled the plug.
Sinn Fein insisted a draft deal had been signed off with the DUP at that point, and accused the party of getting cold feet in the face of an internal revolt from grassroots members angry about potential concessions on the vexed dispute over the Irish language.
The DUP denied the claim, insisting it exchanged numerous papers with Sinn Fein during the negotiation process but none amounted to a draft agreement.
On Monday, Mrs McDonald said: "Life is a two-way street and it's a case of give and take and at whatever stage all of this leads to all of us back round the table again, of that there is no doubt, and a need to dialogue and land an agreement, it needs to be clear that the February agreement is a bottom line – it's not something to be negotiated back from, unionism can't image they can delay and procrastinate and frustrate progress and do it to such an extent that they feel it positions them to pocket more 'concessions'."
She added: "The DUP should not image that by stalling that they can browbeat citizens into accepting less than they are entitled to."