Cyber-attack capability is a government policy for Vladimir Putin's Russia, the head of the UK cyber security agency has said.
Ciaran Martin, chief executive of the National Cyber Security Centre (NCSC), said the UK's infrastructure is hit "frequently" by Russian attackers and online warfare is part of its "armoury of statecraft".
And he said defensive and offensive cyber capability was increasingly an integral part of any modern state, describing cyber warfare as a "very traditional threat to national security" but in a "very modern way".
At a press briefing at CYBERUK18, a cyber-security conference hosted by the NCSC in Manchester, Mr Martin said: "Cyber-attack capabilities are an integral part of Russia's national policy, of its way of asserting itself in the world and asserting its interests in the world.
"And that's been true for quite a long time, I've mentioned tracking some of these groups for 20 years.
"So we can expect Russia to pursue its interests through cyber means where it suits them."
But some attacks come through proxies and criminal gangs and "blurred lines" mean it is difficult to pin-point when attacks are Kremlin directed or state-sponsored and what the motive is, reporters were told.
Mr Martin said: "In cyber space it is possible to operate entirely from jurisdictions that we don't have law enforcement arrangements with and for the most part in cyber crime that will include Russia."
He said after two decades looking at Russian cyber attacks they had noticed "some common personnel" and "an interchange between parts of the Russian cyber-attack framework that we believe to be state-sponsored and those that we believe to be criminal."
Paul Chichester, director of operations at NCSC, said getting concrete evidence and complete knowledge of perpetrator and motive was difficult.
Mr Chichester said: "We do see links between the crime and the state and it is a concern for the UK that that kind of MO is happening, not just for Russia but other countries as well.
"That affords people deniability, that makes our life harder from an attribution point of view."
Mr Martin said the NCSC will in future try to present the evidence "where we safely can" to convince people, "if that is possible".
But he said while the NCSC will counter hacking and cyber attacks it could not police what is truth and fiction on the internet.
"The dissemination of fake news, or more accurately lies, is a different issue," he said.
"It's not a cyber attack so government has to respond to it in a different way and Western governments are talking to the tech sector in considering how you counter disinformation campaigns.
"But disinformation campaigns to the attacker are part of the same strategy, but to a liberal democracy, one is about breaking our computer misuse laws the other is about issues of freedom of speech.
"We do recognise the cyber attack is part of a wider campaign to destabilise which includes disinformation.
"As a government as a whole we want to counter hostile Russian intent towards a democratic system and we have got all sorts of different parts of government working on that."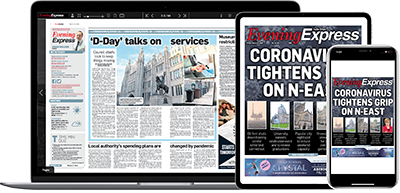 Help support quality local journalism … become a digital subscriber to the Evening Express
For as little as £5.99 a month you can access all of our content, including Premium articles.
Subscribe