Residents have been paying tribute to a 15-year-old boy who was stabbed to death in south-east London.
The victim, named in tributes as Jay, was taken to hospital with stab wounds following an incident in Randlesdown Road in Bellingham on Thursday evening.
He was pronounced dead at 8.15pm, the Metropolitan Police said.
A cordon has been placed around the Morley's chicken shop and other businesses in the road.
Five children in school uniforms placed flowers and cards on railings at the scene.
A woman who lives in the same area as the victim, but asked not to be named, said: "I don't know if he was involved in a gang but I live here and I never thought Bellingham was coming to this.
"It's getting rougher around here.
"I'm just upset because the first thing I thought was that it was my son. I was on my way to the Morley's to get food for my kids, I thought it was my son but it wasn't."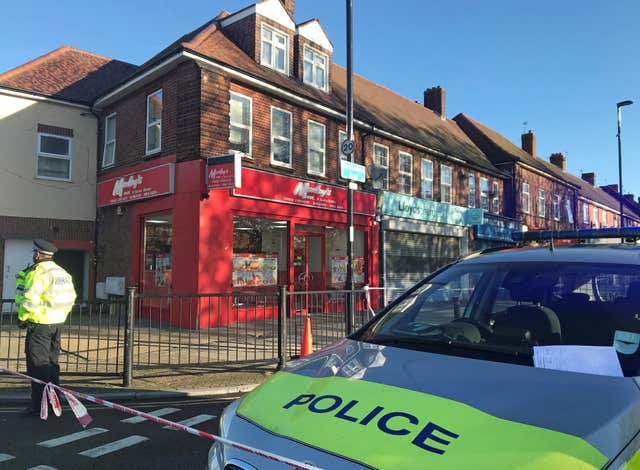 Deanne Wright, 36, who also lives in the area, said she used to see the victim on the bus every day.
She went to Morley's after a friend told her about the incident.
She said: "I saw him, he was on the floor, I saw him lying there."
Ms Wright said that the victim and his friends used to "congregate" around Morley's every day, but "something like this hasn't happened before".
She added: "I just know he was a sweet little boy."
Yelsan Aksan, 45, from Catford, works in a cafeteria on Randlesdown Road.
He said: "It's getting rough, it wasn't like this when I used to live here, it was alright, there wasn't stuff like this.
"Now, this is something people should take seriously, before any more kids, young children or anyone dies in this way."