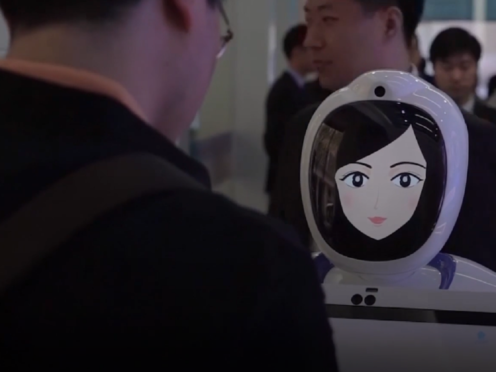 Imagine a future where you are greeted by a robot as you pop into your local bank branch to deposit some cash.
That vision has been a made a reality at the state-owned China Construction Bank (CCB) in Shanghai, where customers can gain access via face-scanning software and talking robots.
Billed as China's first person-less bank, the fully-automated branch aims to make banking more convenient and efficient.
Clients are greeted by a robot as they enter, who answers questions using voice-recognition software.
Visitors can carry out the usual functions such as changing currency, withdrawing cash and renewing Communist party membership fees.
But users who require further assistance can talk to a human operator in a separate location, through a conference call from the bank.
The innovative approach to banking has attracted visitors eager to test out its VR capabilities.
The move follows increasing pressure to compete with online banking and app services in widespread use.
CCB's experiment follows a similar approach by Bank of America in 2017, in which the firm set up four automated financial centres throughout the US where customers could request assistance from a digital greeter.