Artist Dan House from Wakefield is going viral for creating a drawing so realistic it's like looking at a photo.
The drawing, of a £20 note in coloured pencils, took around 45 hours to complete over the course of a year.
The astonishing artwork now has over 10,000 upvotes on Reddit.
House told the Press Association: "I first started drawing when I was very young. I did art through school and at A-level, then started focusing on producing photo-realistic drawings after finishing my A-levels.
"I started doing photo-realistic drawings as a challenge for myself, then I just carried on spending longer and longer on them and doing harder and harder subjects, which is why I drew the £20 note, what is harder to copy than something designed not to be copied, right?
"It is still the biggest and most detailed drawing I have ever done."
House's first drawings were in black and white as he is colourblind, making his £20 note drawing a challenge to complete.
House said: "I am colourblind yes, it does affect my art, I use pencils with the names on to make sure I'm picking up a blue and not a purple and occasionally I'll ask someone if I'm still clueless!
"On the whole I can figure it out and although it is harder to draw in colour and might take longer, apparently colourblind people are better at distinguishing tonal values which does help.
"Now I have had more experience using a colour media I will be using it more, although black and white can still be very powerful in some instances."
House said: "The reaction to the Reddit post was pretty mad, didn't expect that at all.
"I tried to respond to all the comments and I appreciated all the amazingly positive comments I received. It has definitely motivated me to do more!"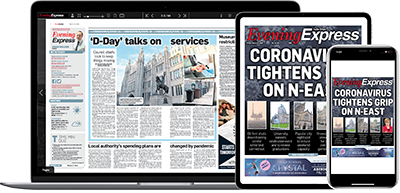 Help support quality local journalism … become a digital subscriber to the Evening Express
For as little as £5.99 a month you can access all of our content, including Premium articles.
Subscribe