A talented toddler has shown off her new hobby on social media as her mother captured videos of the little girl snowboarding.
Kristie Gilmore posted videos of two-year-old Rowan shredding on her snowboard, using the hashtag #ShredLikeRowan.
The family, from Boston, Massachusetts, have taken Rowan for her first season snowboarding, where she has quickly picked up the difficult sport.
Gilmore said they have been snowboarding around eight times this season, and Rowan has started to get excited when she sees the mountains.
She said: "My husband grew up snowboarding and taught me back when we were in college (about 10 years ago)! We are both very adventurous people and can't sit still for too long.
"When we decided to start a family, it was important for us to keep doing the things we love to do, because that's what makes us happy. Of course, kids can make things a little more difficult, but we do our best to incorporate Rowan into all the things we love to do.
"With that said, Rowan is never forced to do anything she doesn't want to do.
"We look at it as we are all bonding as a family and working at building her confidence. We believe building confidence at a young age is such an important foundation for our children."
The family have taught Rowan some sign language, which helps them to ensure the toddler's new hobby is completely safe.
Gilmore said: "Rowan is always safe and we are right there to make sure she is having fun. We actually taught her a few signs – she has a bit of a speech delay and sign language has helped us all communicate better and understand each other.
"We taught her the sign for 'all done' so we know when she's tapped out or needs a break."
Gilmore said: "I love posting the snowboarding videos, because they put a smile on my face and the world needs more positivity and happy moments!
"It has encouraged me (and my husband) to keep sharing our family activities and outings to show families that it is possible to do these types of things with their kids."
With skills like this, make sure to look out for Rowan in the 2034 Winter Olympics!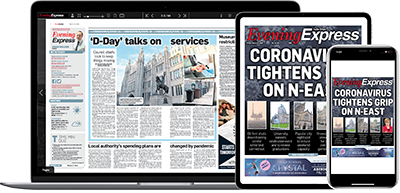 Help support quality local journalism … become a digital subscriber to the Evening Express
For as little as £5.99 a month you can access all of our content, including Premium articles.
Subscribe