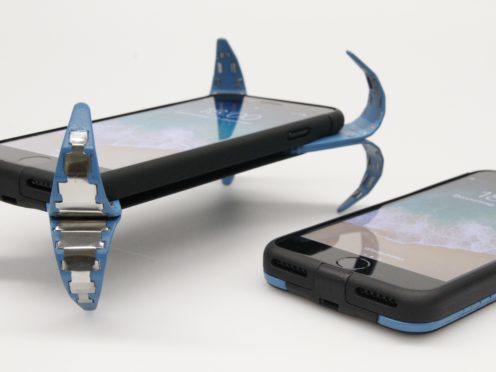 If you're always dropping your phone, you'll be aware of the horrible feeling of seeing a cracked smartphone screen.
Philip Frenzel, an engineering student at Aalen University in Germany, has invented a smartphone case that could prevent your screen from smashing.
The Active Damping Case or ADcase, senses when your device is in free-fall and releases metal prongs to cushion its landing, preventing breaks to the screen.
ADcase said: "We spent a few years inventing and developing this brand-new Active Damping case for smartphones and did a lot of engineering to find out the best combination of reliable technology and modern design.
"In case your smartphone falls down, ADcase instantly recognises the imminent incident and automatically swings out the active dampers to absorb the shock thereby saving your smartphone."
The company plans to launch the device on Kickstarter in the coming weeks.
The ADcase will first be available for all new iPhones, from the iPhone 6 to the X model. After successful funding, the company will be offering the case for Android smartphones.
The pricing for the case is not yet fixed, however during the Kickstarter event it will be available for around 50 euro (about £44).