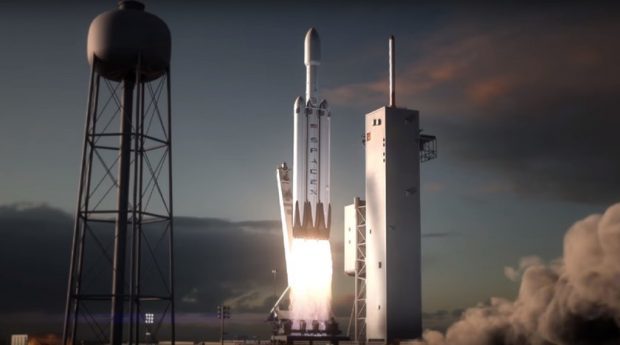 Elon Musk's space exploration firm SpaceX is gearing up for the first full engine test of its biggest rocket, and the entrepreneur has offered some early insight into the test.
The Tesla founder posted a series of images and information to Twitter and Instagram, showing the Falcon Heavy rocket, which contains 27 engines, at Cape Canaveral ahead of an engine test and then full test flight early next year.
In a further Instagram post, Musk revealed that as part of the first test flight, an original Tesla Roadster will be part of the payload aboard the ship, which will be aimed for Mars orbit, and playing David Bowie's Space Oddity as it goes.
"Test flights of new rockets usually contain mass simulators in the form of concrete or steel blocks. That seemed extremely boring," Musk wrote on Instagram.
"Of course, anything boring is terrible, especially companies, so we decided to send something unusual, something that made us feel.
"The payload will be an original Tesla Roadster, playing Space Oddity, on a billion year elliptic Mars orbit."
The three Falcon 9 boosters used to propel the ship into space are designed to separate and return to Earth for controlled landings.
However, Musk has also said publicly that there's a "real good chance" something may go wrong during the maiden flight and the ship may not make it to orbit.
If successful, the Falcon Heavy will become the most powerful rocket in operation, and according to Nasa will have twice the lifting power of the next most powerful rocket.