Nicola Sturgeon has urged football fans to stay at home this weekend ahead of the first Celtic v Rangers clash of the season.
The Glasgow clubs will play behind closed doors at Celtic Park on Saturday due to Covid-19 restrictions.
Speaking during the Scottish Government's coronavirus briefing on Friday, the First Minister asked fans to not gather outside the stadium or in other people's homes.
With pubs closed in the central belt under temporary Covid-19 measures, Ms Sturgeon told fans not to travel to other parts of Scotland or to areas in England where such restrictions are not in force.
She made the appeal as she announced nine more deaths of coronavirus patients have been recorded in the past 24 hours, bringing the total number of fatalities to 2,594.
A total of 1,196 people have tested positive for coronavirus over the same time period, while the number of people being admitted to hospital with the virus continues to grow.
Stressing that nobody should be going into someone's else house unless for an essential purpose, Ms Sturgeon said: "I'm afraid that watching football, no matter how essential it might feel to some, does not fall into that essential category."
She said there is no point in turning up at Celtic Park as there will be "nothing to see" and she stressed it is "really important" for fans not to travel to try to watch the game in pubs.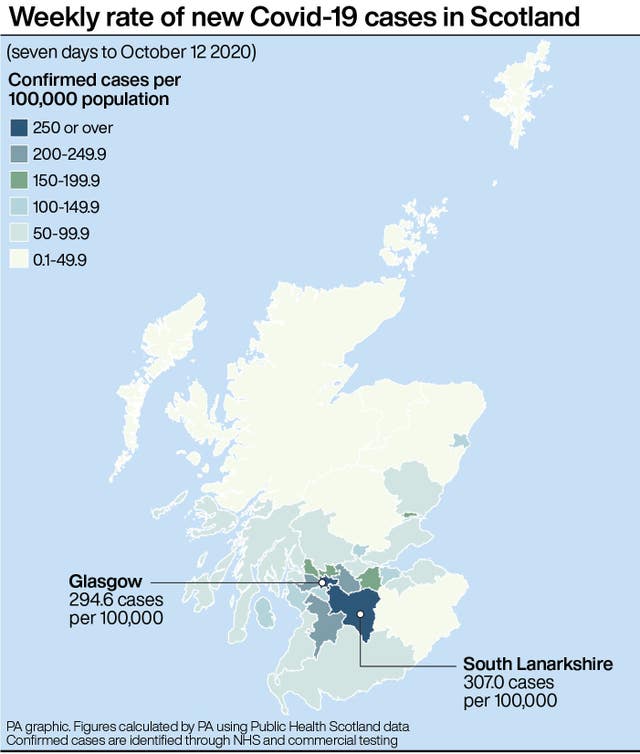 Ms Sturgeon said the temptation to defy public health measures could be "even greater" than usual as a result of the football match on Saturday.
She said: "Nobody likes the fact that these restrictions have to be in place but they are vital to protecting all of us and keeping us safe.
"So please comply with restrictions – by doing that you will be playing your part in helping us get the virus under control and you'll be helping hasten the day when we can all watch and enjoy the things that we love doing, whether that's football or the many things that we find ourselves not able to do normally."
The First Minister said she "struggled to understand" those who were considering flouting the rules to watch football.
She added: "I'm going to be pretty blunt here – that's not the biggest sacrifice I've asked people to make in the past seven months.
"I'm just going to say to people – be responsible and, actually more correctly, don't be deeply irresponsible by trying to flout these rules because they're in place for your protection and for the protection of the people you love and care about."
Responding to comments to cancel the game from Labour MP Ian Murray, Ms Sturgeon said it is not "within my gift alone" to postpone the match and said the majority of people will likely comply with Covid-19 restrictions.
The First Minister also thanked teachers, school staff, pupils and parents for how they have dealt with the virus in recent months.
"We must not lose sight of what you have achieved during this first half-term," she said.
"It is down to your efforts and your ability to adapt in extremely difficult circumstances that schools have been able to return.
"As a result, the vast majority of pupils are now able to have the classroom and wider school experience that was lost back in the spring.
"I don't think we should underestimate that – it is a real achievement that young people have been able to have that normal school experience for the last number of weeks that they lost out on for much of this year."
The First Minister also spoke about two new walk-in testing centres that will open on Friday and Saturday, which will add to seven other such sites across the country.
She said the new centres in Dundee city centre and Sighthill, Edinburgh, are aimed at students but can be used by anyone.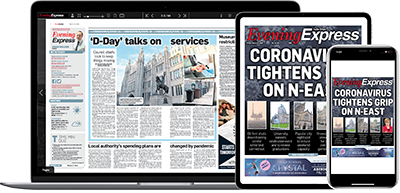 Help support quality local journalism … become a digital subscriber to the Evening Express
For as little as £5.99 a month you can access all of our content, including Premium articles.
Subscribe