Nicola Sturgeon has set out more details of a tiered system planned to replace temporary coronavirus restrictions across Scotland.
The First Minister said Scotland is at a "critical moment" and a new strategic framework is planned, subject to the approval of Holyrood.
It will indicate the level of regulations to apply when the temporary restrictions end on October 25.
Current restrictions on hospitality include pubs and restaurants being closed in five areas of central Scotland, except for takeaway services.
Elsewhere in Scotland, hospitality venues are subject to a 6pm indoor curfew and can only provide food and soft drinks within their premises.
They are permitted to sell alcohol outdoors until 10pm.
Ms Sturgeon said the new framework will "strengthen our resilience to live with this virus" and will detail support for businesses in the future should they be the subject of further restrictions required to tackle Covid-19.
In a statement to a virtual session of the Scottish Parliament on Thursday, she said all current restrictions including the household visit ban will not be lifted as a result of the three-weekly review after a spike in coronavirus cases.
She told MSPs Scotland has recorded 13 deaths of coronavirus patients in the past 24 hours and 1,351 positive tests have been reported in the same period.
Ms Sturgeon said current restrictions are tough but she cannot rule out having to go further in the future and is considering a travel ban for visitors from high risk areas within the UK, in light of such action being planned by the Welsh Government.
She said: "We intend to replace the temporary restrictions with a new strategic approach to managing the pandemic.
"This new strategic approach will set out the different tiers or levels of restrictions which will be set out which may be applied in future, either locally or across Scotland, depending on how the virus is spreading.
"When we publish this new framework, which will then of course be subject to debate and decision by Parliament, we will indicate based on the latest advice from the national incident management team and from our clinical advisors what level of intervention should apply to each part of the country when the temporary restrictions end on October 26."
It will also set out measures to increase compliance with self-isolation as well as future projections of daily testing capacity.
Ms Sturgeon said part of the £40 million support for businesses hit by the new restrictions on hospitality will be a £20 million grant fund, to be administered by local authorities, which will open to applications from Tuesday.
Regulations designed to expand the legal use of face coverings will be laid before the Scottish Parliament on Thursday, with some measures coming into effect on Friday, the First Minister said.
Those coming into force on Friday will "deliver some flexibility" – including allowing for an exemption for couples during their wedding – and will also mean people in workplace canteens will only be able to remove their mask when seated at a table.
From Monday, other communal areas in work places will be covered by the restrictions, meaning staff will need to wear a mask in areas such as corridors.
Ms Sturgeon said: "The new rules are a proportionate additional step which will help employees keep themselves and their colleagues that bit safer."
Giving an update on the daily coronavirus figures, she said the newly registered deaths take the toll under this measures – of people who first tested positive for the virus within the previous 28 days – to 2,585.
The positive tests in the past represent 17.6% of newly tested individuals, up from 16.4% on Wednesday, and take the total to 44,036.
Of the new cases, 450 are in Greater Glasgow and Clyde, 374 in Lanarkshire, 161 in Lothian, and 111 in Ayrshire and Arran.
There are 601 people in hospital confirmed to have the virus, up by 31 in 24 hours.
Of these patients, 13 are in intensive care, up by two.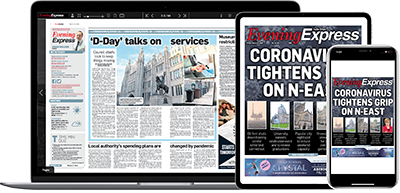 Help support quality local journalism … become a digital subscriber to the Evening Express
For as little as £5.99 a month you can access all of our content, including Premium articles.
Subscribe