The newly reappointed shadow Scottish secretary has claimed the new Labour leadership offers a "fresh start" for the party north of the border.
Ian Murray was assigned to the role by Sir Keir Starmer after he was announced as the party's new leader.
The Edinburgh South MP resigned from the position in June 2016 over disagreements with Jeremy Corbyn following the Brexit referendum.
Mr Murray – who is the only Labour MP in Scotland – previously said Scottish Labour leader Richard Leonard had got his position on the "coattails" of Mr Corbyn.
Speaking on Good Morning Scotland on Tuesday, he said of the new leadership: "I think it's an opportunity.
"It's an opportunity to have a fresh start, to wipe the slate clean, to look at the last five years as not being particularly positive in electoral terms."
Mr Murray added: "In terms of Richard Leonard being leader of the Scottish Labour Party, in terms of Jackie Baillie being the new deputy, in terms of a new shadow Secretary of State for Scotland, a new leader at UK level and a UK Shadow Cabinet.
"That is now what we are proposing to the public and we want to be a much more positive, forward-thinking party, that listens to the public, responds to what they told us on December 12 (general election) and goes forward as a united party with a policy platform that everyone can attach themselves to.
"That is the fight over the next few years in the run-up to the elections in 2024 at UK level and next year's 2021 Scottish elections – that's what we're all fighting for and we'll do it together."
He rejected the idea of a new Scottish Labour leader.
Mr Murray also claimed that his party's position is to reject independence north of the border, to reject a second referendum on that subject and to push for a more federalist approach for Scotland.
The shadow Scottish secretary also offered good wishes to Prime Minister Boris Johnson, who is in intensive care due to Covid-19, and added that his party would be willing to help the UK Government through the crisis.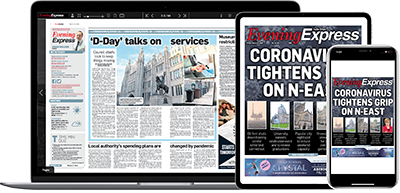 Help support quality local journalism … become a digital subscriber to the Evening Express
For as little as £5.99 a month you can access all of our content, including Premium articles.
Subscribe