Nicola Sturgeon has said the Scottish Government is dealing with challenges facing the NHS better than the Tories or Labour are, as she was warned of a GP crisis.
Responding to Scottish Labour's Richard Leonard at FMQs, the First Minister argued that, despite record-low A&E figures, Scotland's NHS is outperforming England and Wales.
Mr Leonard raised two cases of GP surgeries facing closure, including one in the Health Secretary's constituency, and accused Ms Sturgeon of "washing her hands" of the issue.
He called for the Scottish Government to intervene to stop GP surgery closures to ease pressure on other parts of the NHS.
During the exchange, he said GP services are at risk "because of staff shortages, policy decisions and under-resourcing" that has caused a "workforce crisis" with GPs and the wider NHS.
"There is a workforce crisis in primary care services and it is happening now and it is happening here in Scotland and it goes all the way back to the First Minister's door," Mr Leonard said.
"We know it takes at least 10 years to train to be a GP and 10 years ago the First Minister was the health secretary responsible.
"This winter saw the worst A&E performances on record, thousands of patients waited over four hours for treatment."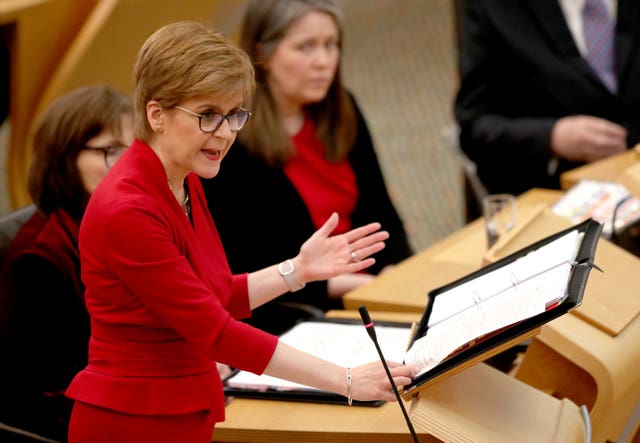 Ms Sturgeon pointed out that the number of trainee doctors has risen by 10% since 2007, the Scottish Government has agreed a new GP contract and there are an increased number of GP training places.
"We are putting record funding into our National Health Service, it's why we have record numbers of people working in our National Health Service," Ms Sturgeon said.
"We have record numbers of people working in our National Health Service, we have increasing numbers of GPs and GPs in training, and that's why our health service is performing better – yes it's still facing challenges – but it's performing better than any other part of the UK."
She added: "In December last year, against the four-hour target, the performance in Scotland was 81.6% – that's not good enough.
"In Tory England, though, it was 68.6%. And where Labour is running a Government in Wales, it was 66.4%.
"So yes, our health service faces challenges but all of the evidence says it's the SNP that's meeting those challenges better than any other party in the UK."