Upland businesses are set to reopen for the grouse shooting season on Wednesday, but the Scottish Greens are saying this year should be the last.
Wednesday marks the start of the "Glorious 12th", which has reignited the debate over grouse shooting and its environmental impact.
Branded a "cruel Victorian hobby" by the Scottish Greens, they have called out the Scottish Government for not responding to a two-year review of the sport by Professor Alan Werritty.
John Finnie, Scottish Greens rural economy spokesman, said: "Up to a fifth of Scotland is given up to this cruel hobby practised by a very small group of people.
"It is a hobby which tears up and burns our land, it kills all kinds of wildlife, yet the Werritty review couldn't even recommend licensing.
"What's worse, the Scottish Government has dragged its heels since. It hasn't responded to the review, and it hasn't prevented the mass killing of mountain hares despite Parliament and public calling for the species to be protected.
"Birds of prey, too, continue to disappear, like Tom the golden eagle who vanished this week.
"There's nothing glorious about the 12th of August or about the intensive and damaging killing, burning, and degradation of our landscape that is associated with driven grouse shooting.
"Scotland's land needs to be freed up for the economic and social benefit of all of its people and used in ways that contributes to a thriving rural economy and natural environment.
"It's time for the Scottish Government to get off the fence, come into the 21st century and end this cruel practice."
However, Tim Baynes, moorland director at Scottish Land & Estates, said that the land grouse shooting takes place on provides a wide range of social, economic and environmental benefits for Scotland.
He added: "In the midst of a global pandemic, which has buffeted the rural economy, it is astonishing that the Scottish Green Party call for measures that would decimate highly skilled rural jobs.
"The recent Werritty review highlighted how important grouse shooting is for employment, reporting that around six gamekeeper jobs are maintained for the same area of land that would need one shepherd if used for farming.
"This also doesn't take account of the hotels, shops, restaurants, garages and other businesses across Scotland which rely on downstream revenue from estate for their own sustainability.
"No more than 10% of Scotland's land area has some component of grouse moor management – considerably less than the 20% claimed by activists – yet it is still renowned in both domestic and international markets.
"At a time of so much economic uncertainty, we would like to see parliamentarians demonstrate their support for the benefits that this land use undoubtedly provides."
The grouse season in Scotland, which runs for 16 weeks from August 12 to December 10, is estimated to be worth £32 million during a good season.
This is part of the £350 million overall value of game and country sports to Scotland.
Sporting shooting also supports 11,000 full-time jobs in Scotland, of which 2,640 are in the grouse sector.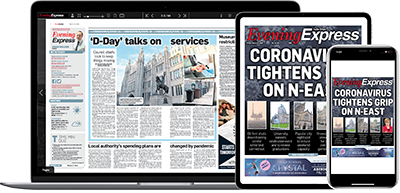 Help support quality local journalism … become a digital subscriber to the Evening Express
For as little as £5.99 a month you can access all of our content, including Premium articles.
Subscribe