Scotland could need more than the 2,000 contact tracers being recruited to help control the spread of coronavirus, Nicola Sturgeon has said.
She said the Scottish Government is "on track" to have 2,000 contact tracers in place by June.
Ms Sturgeon also said Scotland is "very close" to being able to process 15,000 tests for Covid-19 a day.
Contact tracers and a higher testing capacity are necessary as part of the Scottish Government's test, trace and isolate approach, which is being brought in to try to curb the spread of the disease.
But Ms Sturgeon conceded more testing and tracers may be required, depending on "the requirements the virus places on us".
Speaking at the Scottish Government's daily briefing in Edinburgh, the First Minister confirmed there are 660 contact tracers currently in place, with another 750 "at various stages of the appointment and training process".
She also said there had been around 25,000 expressions of interest after the Government advertised for the roles.
"All of that is on track and continues to make progress," Ms Sturgeon said.
However, she added: "We've got to be mindful of not getting too fixed in our minds about these numbers. It is important we build up to that capacity but as of the end of the month we may well not need all 2,000 contact tracers and we may not need all of the testing capacity.
"But we need to have it, in case we need it in the future and of course we may have to go beyond the 15,500 and the 2,000 in future.
"We have to remain flexible in our ability to scale up depending on the requirements the virus places on us."
Meanwhile, the UK Government announced a further £39 million for the Scottish Government to respond to coronavirus, as a result of Barnett consequentials from a £300 million funding announcement for local authorities in England to support a test and trace service.
Scotland Office Minister Douglas Ross said: "No one part of the UK will face this pandemic alone, and today's announcement of a further £39 million of UK Government funding for Scotland demonstrates how we continue to tackle coronavirus together.
"This latest cash boost for Scotland is a result of additional funding being announced for testing and tracing in England. It is crucial all parts of the UK develop this strategy to reduce the spread of the virus."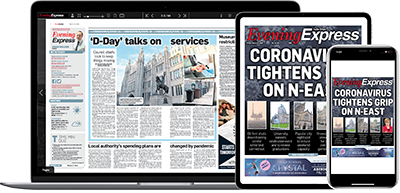 Help support quality local journalism … become a digital subscriber to the Evening Express
For as little as £5.99 a month you can access all of our content, including Premium articles.
Subscribe