Schools across Scotland are to start reopening on Tuesday, with all primary and secondary pupils expected to return to classrooms full-time by August 18.
They are the first in the UK to begin reopening as lockdown is eased.
Here we look at some of the questions parents and pupils might be asking before schools return.
– Are all schools returning on Tuesday?
Local authorities have taken different approaches to this stage of easing lockdown restrictions.
Pupils in the Scottish Borders and some in Shetland will be the first to return on Tuesday.
Elsewhere, all pupils in Edinburgh will be back in school on Wednesday, whereas many others including those Highlands will phase their reopening until August 18.
– What changes are in place?
Teachers have been issued with guidance from the Scottish Government on how to mitigate the spread of the virus within classrooms.
This includes pupils being contained within "consistent groups" throughout the day where possible.
Extra hygiene measures include allowing time for pupils and adults to wash hands, as well as encouraging anyone who sneezes of coughs to do so into their elbow.
Face masks are not required for children but anyone who wishes to should not be stopped.
Some schools may wish to enforce use of the protection if the virus begins to spread, the guidance states.
Adults are recommended to wear coverings on school property if they cannot maintain social distancing.
– Do pupils have to socially distance?
Young children do not have to socially distance, the guidance says, although those in older years should try to keep to some space from others.
Adults are recommended to stay two metres apart when possible
Pupils using school transport do not need to physical distance or wear face masks, according to the guidance, but should wash their hands before boarding the vehicle.
Those who use public transport should follow related guidance.
– What happens in the event of a local outbreak?
Schools are recommended to have plans for blended learning or temporary closures to help control transmission if there is a local outbreak.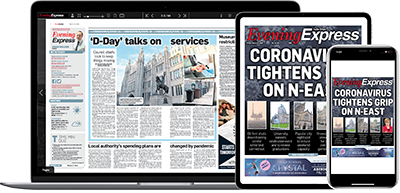 Help support quality local journalism … become a digital subscriber to the Evening Express
For as little as £5.99 a month you can access all of our content, including Premium articles.
Subscribe