The newly announced 10pm curfew will leave hospitality firms "staring into an abyss", according to an industry body.
Scotland's First Minister Nicola Sturgeon has joined Prime Minister Boris Johnson in bringing the restriction, but it will come into force a day later north of the border, on Friday.
Ms Sturgeon also announced further resources will be provided to environmental health teams to increase inspections and enforcement.
The Scottish Hospitality Group's Stephen Montgomery said many businesses are currently trading at a loss and taking away late night customers will have a "critical impact" on the industry.
"We are now staring into an abyss," he said.
"A national curfew on Scotland's bars, restaurants and late night venues will have a critical impact on those crucial later trading hours.
"Many of us are already trading at a loss and some members estimate that they will see their turnover plummet by more than 25% with the new measures.
"With 90,000 Scottish jobs at risk, we are heading towards a cliff edge and time is running out."
Mr Montgomery claimed it is "only a matter of months" before irreparable damage is done to the industry, meaning "many businesses" will not make it past Christmas without further support.
He added: "With tighter restrictions, even more will be plunged into the red and the consequences will range from redundancies as a minimum, to the closure of individual premises right through to insolvency."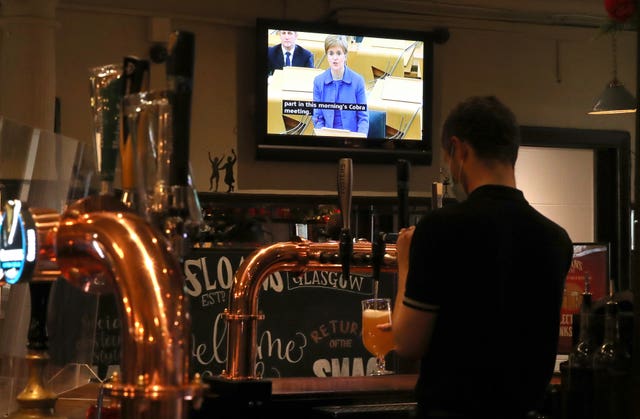 Mike Grieve, the chairman of the Night Time Association Industries Association Scotland, said the new measures "don't make sense".
"The main transmission mechanism is in the home, not in hospitality settings," he said.
"Public Health England figures show that only 5% of infections in early September occurred in food outlets, including restaurants and pubs.
"With more onerous restrictions already in place in Scotland's pubs and restaurants, it's difficult to understand why this sector is attracting so much of the focus.
"As the only country in the world with a complete ban on music, Scotland's worldwide reputation for atmosphere in our bars, restaurants and venues is already threatened with extinction."
A spokesman for the Scottish Beer and Pub Association claimed the curfew will "devastate" the hospitality industry at a time when businesses are already struggling, calling for "an immediate, sector-specific furlough scheme" to be put in place to save already beleaguered pubs and restaurants.
During her speech on Tuesday, the First Minister said further restrictions, including possible closure of venues, will be be "unavoidable" if hygiene rules are not complied with, involving ensuring social distancing, hand hygiene and the wearing of face coverings.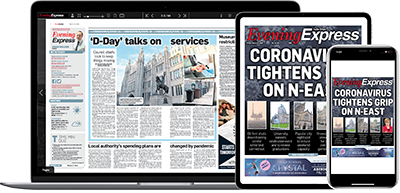 Help support quality local journalism … become a digital subscriber to the Evening Express
For as little as £5.99 a month you can access all of our content, including Premium articles.
Subscribe