There should be a "concerted effort" to reduce the number of people detained in prisons and other facilities during the coronavirus outbreak, according to a group of watchdogs.
Scottish members of the National Preventive Mechanism (NPM), a group of 21 bodies that have powers to inspect or monitor places of detention, have written to the Justice Secretary.
They urged Humza Yousaf to ensure the rights of detained people are protected during the Covid-19 epidemic.
The impossibility of social distancing in prisons puts both staff and inmates at increased risk of infection, the letter said.
Signatories include the Scottish Human Rights Commission, Her Majesty's Inspectorate of Prisons for Scotland and the Mental Welfare Commission for Scotland.
They recommend a number of steps including extra support for staff, ensuring detainees receive appropriate healthcare and setting up video systems such as Skype to allow families to keep in touch.
The letter said: "A concerted effort should be made to reduce the detained populations to mitigate the inherent risk of maintaining people in close confinement.
"This is particularly important for detainees with underlying
health conditions, remanded population, children and those in other vulnerable categories, as well as in areas of the detention estate that are already overcrowded.
"This should be facilitated where risk assessment and the impact on other services in the community deems it feasible and by expanding the use of existing instruments or executive release under emergency legislation."
Mr Yousaf outlined measures to ensure the continuity of the justice system on Wednesday.
Hearings in criminal and civil courts can take place remotely and the time limit for unpaid work has been relaxed.
The release of prisoners will only be considered as a last resort, he said.
Certain categories, such as those serving life sentences and terrorist offenders, will be excluded.
Mr Yousaf said: "We will work constructively with the legal profession, victims' organisations, political parties and the judiciary to consider the best way to enable solemn trials to progress while social distancing requirements are in place.
"Emergency powers to allow for release are included only as a last resort to ensure our valued prison staff are able to concentrate efforts on those that present the greatest risk to society, in the event there is a high level of staff absence due to Covid-19.
"Public safety is a central consideration and, before using these powers, we will in the first instance look at the existing provision for home detention curfew."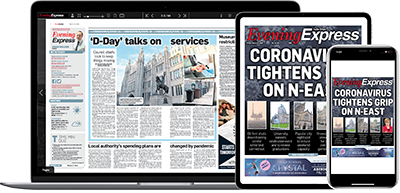 Help support quality local journalism … become a digital subscriber to the Evening Express
For as little as £5.99 a month you can access all of our content, including Premium articles.
Subscribe