Just one person has been issued with a fixed penalty notice for a "blatant breach" of coronavirus quarantine regulations after returning to Scotland from overseas, the Justice Secretary has revealed.
Humza Yousaf said that "mirrors the enforcement picture elsewhere" in the United Kingdom, adding figures from the National Police Chief Council showed just three such notices had been issued in England by last Friday, August 28.
MSPs on Holyrood's Health Committee had demanded answers from the Justice Secretary over how many reports had been made to Police Scotland in relation to "quarantine issues".
Mr Yousaf told them that by August 30, the force had received 125 Public Health Scotland (PHS) referrals – adding that 61 of these had required local officers to "attend at an address" to ensure quarantine requirements were being met.
Chief Constable Iain Livingstone has been clear "that Police Scotland's approach to quarantine and all other Covid-19 requirements is to encourage people to do the right thing", the Justice Secretary said.
He said he "fully" supported this, adding: "Police Scotland will continue to educate and encourage but they can and do take action when there is blatant flouting of the law.
"So far, that has led to only one fixed penalty notice issued for a blatant breach of the requirements in Scotland but that mirrors the enforcement picture elsewhere."
In a letter to the committee, Mr Yousaf confirmed that between June 22 and August 23 contact tracers had "followed up" with 4,143 people returning to Scotland from overseas countries where quarantine is now required to help control the spread of Covid-19.
Staff at the National Contact Tracing Centre successfully contacted 3,303 members of the public but were unable to get in touch with 764, with 76 cases "still in progress", he added.
With MSPs asking how many people had travelled to coronavirus hotspots overseas, and then gone on to display symptoms of the virus, Mr Yousaf said he was working with Public Health Scotland so see what data was available, but added there was some concern about possible privacy issues.
He also told the committee that while talks were taking place with the other governments in the UK about the prospect of adopting a regional approach to quarantine, there were "clear challenges" with this.
The Justice Secretary said there could be difficulties "distinguishing between areas in countries where there is no clear definition of a border within that country".
He acknowledged a regional approach might be "appropriate" for island areas, but stressed: "There have been no decisions made on this yet and any developments can only be made with public health as the priority."
The Scottish Liberal Democrat leader noted that while 125 cases had been referred to the police, he added that the Justice Secretary "can't say how many people that covers" – branding the situation a "mess".
Willie Rennie added: "Quarantine is an important way to stop infections from those countries that have higher rates. Multiple ministers have repeatedly been quizzed about the operation of this system and they're none the wiser.
"They aren't even recording how many of those quarantining become unwell. We still don't have clear answers on what happens when contact tracers can't get hold of someone who is supposed to be isolating at home.
"Time is ticking on and failings in the workings of this quarantine system have not been ironed out. This could be putting lives at risk. The government needs to get to grips with it now."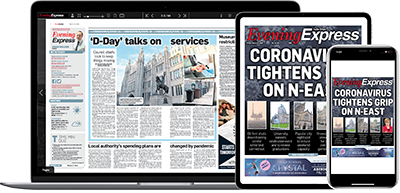 Help support quality local journalism … become a digital subscriber to the Evening Express
For as little as £5.99 a month you can access all of our content, including Premium articles.
Subscribe