The number of children being cared for by a family member who is not one of their parents has increased by more than 70% in the last decade.
Scottish Government statistics show that in 2018-19, 4,103 children were being looked after by a kinship carer – up from 2,399 in 2008.
In 2008, 16% of children in care were looked after by another family member – such as a grandparent, aunt, uncle or sibling – but now kinship care arrangements are in place for more than a quarter (28%) of looked after youngsters.
With increasing numbers of children receiving such care, Citizens Advice Scotland (CAS) last year helped kinship carers access almost £769,000 worth of support.
The Kinship Care Advice Service for Scotland, which is run by CAS, received 1,639 inquiries from kinship carers in 2019 – meaning the service provided an average of about £470 in financial assistance to each family.
Speaking ahead of Kinship Care Week, which starts on Monday March 16, children's minister Maree Todd said: "We believe that the best place for a child to live, whenever a child needs to leave their birth parents, is in the wider family, if it is safe and in the best interests of the child to do so.
"We want Scotland to be one of the best places in the world for our children to grow up and the Scottish Government is committed to making the Scottish care system the best that it can be. That is why we have been working with CAS and other stakeholders, including kinship carers, to raise awareness of kinship care and help deliver Kinship Care Week 2020."
CAS chief executive Derek Mitchell said: "Kinship carers are a hugely important group within our community. They ensure stability and continuity for children who are often in vulnerable situations when their own parents are unable to care for them.
"That is important for the children, of course, but also hugely beneficial for society in general, as the children can remain within the family circle.
"These kinship carers take on a significant financial burden. We all know how costly it is to raise a child, in any circumstances. And kinship carers don't always get the support they need, and often don't know where to get it. That's why we have set up this service, which seeks to give them expert support and advice to enable them to do the vital work they do.
"Our advisers have managed to deliver nearly £800,000 to kinship carers across Scotland. This is money they are entitled to, but had been unable to access without our help and may have gone without. So we are extremely proud of the work our advisers have done, and we are, of course, continuing those efforts into this year as well."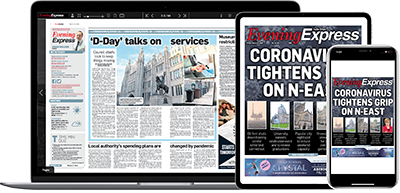 Help support quality local journalism … become a digital subscriber to the Evening Express
For as little as £5.99 a month you can access all of our content, including Premium articles.
Subscribe