Home has become "increasingly unsafe" for children as alerts to police and councils have surged 40% in lockdown, according to NSPCC Scotland.
The charity's helpline has made more than 480 referrals to Scottish agencies in three months following lockdown.
During the past three months, the helpline has heard from more than 22,000 adults across the UK concerned about the wellbeing of a child.
It is an increase of almost a third – 32% – on the monthly average for the three months prior to lockdown, with May seeing 8,287 contacts – the highest to the adult helpline in a month on record.
Matt Forde, NSPCC Scotland head of service, said: "The increase in referrals from our helpline during the lockdown highlights how some families have been driven to crisis point and the home has become an increasingly unsafe place for some children.
"It is vital that children are now supported to help them recover from any mental and physical harm that many will have suffered these past few months.
"Government's role is crucial, and it must put in place a detailed recovery plan that makes sure children and young people can receive the expert help they need if they have had difficult or damaging experiences.
"Putting children at the heart of recovery planning and taking this action quickly will mean the crisis of the last three months does not scar the childhoods of a whole generation."
NSPCC Scotland figures show that in April, May and June, the helpline made a monthly average of 161 referrals – compared to an average of 114 in the three months prior to lockdown.
The charity is now calling on the Scottish Government to urgently commit to a children's recovery plan.
A Scottish Government spokeswoman said that the safety and wellbeing of young people is a key government priority.
She added: "Children on the child protection register continue to have regular contact with social workers and other professionals as part of their protection plans, and higher risk cases are being prioritised with local processes streamlined and modified in line with emergency legislation and national guidance.
"We are committed to providing tailored support to children and families and, during lockdown, this has ensured ongoing support to vulnerable children in education hubs or in their own homes. This child and family centred approach will continue as we move out of the crisis.
"Like other governments in the UK, we supported the NSPCC's publicity campaign to encourage anyone with concerns about children's wellbeing to call their helpline. This has enabled NSPCC to work with police and local authorities to ensure that help gets to those children and families who need it."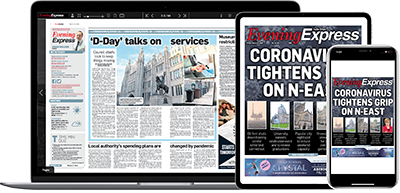 Help support quality local journalism … become a digital subscriber to the Evening Express
For as little as £5.99 a month you can access all of our content, including Premium articles.
Subscribe