There were no prosecutions of high-value fraud cases in Scotland in the first half of 2020, according to new data.
No such legal actions worth more £100,000 were registered between January 1 and June 30, compared with four totalling £1.2 million during the same period last year.
It is the first time the KPMG biannual Fraud Barometer has recorded zero cases at this level.
The finding has prompted a warning that Scotland's courts could struggle over the next year as they may face a backlog.
Annette Barker, head of forensic at KPMG in Scotland, said: "With many of Scotland's courts closed temporarily during the pandemic, it's reasonable to assume the true extent of fraud committed across the country has been masked – not least as previous crises tell us that increased financial pressures on individuals can often drive increased criminal behaviour.
"Looking ahead, we certainly expect the fallout from the uncertainty caused by the pandemic to dramatically accelerate the levels of fraud hitting businesses, government and individuals.
"It is therefore absolutely vital that businesses and consumers remain vigilant as Scotland enters what is likely to be a very challenging economic climate which will only drive fraudsters to take full advantage."
A spokesman for the firm said cases that concluded in the first half of 2020 may not have been included if they were reported in 2019.
Scotland's court system had to adapt by lockdown measures brought in to tackle the global coronavirus pandemic.
Legal history has been made with several types of cases being held over virtual platforms for the first time.
Only 76 cases of alleged fraud were heard in all UK courts in the first half of 2020 – down from 217 prosecuted during the same period last year.
This 65% decrease reflects the significant impact of the Covid-19 crisis on law enforcement, according to the law firm.
Roy Waligora, KPMG UK head of investigations, said: "The Covid-19 environment has led to increased financial pressures on individuals and organisations, leading to more opportunities to commit fraud.
"This is likely to lead to further risk of financial misreporting and of misconduct and fraud in traditional hot spots such as procurement and supply chain.
"Given the elevated pressure on the courts, business leaders should assess fraud risks and remind employees of anti-fraud policies and whistle-blowing channels in order to reduce the risk of loss."
A Crown Office and Procurator Fiscal Service (COPFS) spokeswoman said: "Throughout the coronavirus pandemic, COPFS has continued to mark cases for prosecution, and prepare and process both its existing caseload and new cases, as far as possible.
"Jury trials in Scotland have been halted since March 2020 due to public health guidance.
"However, a small number have been conducted recently in the High Court with appropriate social distancing measures in place.
"COPFS continues to work with justice partners in contributing to a system-wide response to maintaining the administration of justice in light of public health guidance."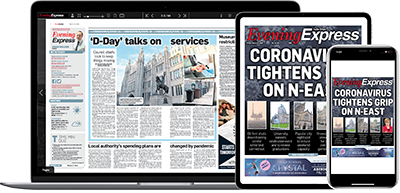 Help support quality local journalism … become a digital subscriber to the Evening Express
For as little as £5.99 a month you can access all of our content, including Premium articles.
Subscribe