The Scottish Government will do everything possible to help organisations like Glasgow Life which run libraries and swimming pools, Nicola Sturgeon has said.
Glasgow Life has given no dates to reopen a number of its cultural and sports venues due to the financial impact of Covid-19.
During First Minister's Questions at Holyrood, Scottish Greens co-leader Patrick Harvie asked Ms Sturgeon if she will commit to a "bailout" for the organisation, and others like it.
Glasgow Life expects to lose around £13 million in income, putting the future of places like Whitehill Pool and Govanhill Library at risk, he said.
Mr Harvie told Ms Sturgeon: "So far Glasgow Life have no plans to reopen almost two-thirds of their venues. These facilities are a lifeline.
"The First Minister may even have seen people outside closed libraries in her own constituency, they're turning up there because the WiFi is still switched on and that's their only internet access."
Ms Sturgeon said she wants to help different sectors and businesses as much as possible.
She said: "This is not intended to be a political point or moan, but there is a limit to the ability that this Government has to make financial resources available.
"We have limited borrowing powers and therefore there is a hard limit – we're not able to overspend – in how much we can make available."
She said the Scottish Government is seeking borrowing flexibility from the UK Government.
The First Minister added: "We will continue to do everything we can, whether it's for Glasgow Life or cultural organisations elsewhere.
"We're currently discussing with the culture sector the disbursement of money that is available to try to help there.
"We will do everything we can, but we also need more flexibility if we're going to be able to do more."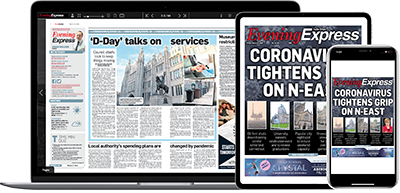 Help support quality local journalism … become a digital subscriber to the Evening Express
For as little as £5.99 a month you can access all of our content, including Premium articles.
Subscribe