Nicola Sturgeon said she "felt like crying" when she saw pictures of large crowds on Portobello beach as she issued an appeal for people to stay in lockdown for "a little bit longer".
The First Minister stressed the planned easing of lockdown restrictions will not happen if there is a spike in coronavirus cases in the next week.
Ms Sturgeon said Scots have been "truly magnificent in how they have complied with these restrictions", but she urged people to only leave home for essential reasons until at least May 28 when lockdown may be eased.
In her "appeal to the public", she said: "Just continue to do it for a little bit longer. Because if we see a regression between now and next week, I won't be able to introduce the changes that I've talked about today and I don't want to be in that position."
Asked by Scottish Greens co-leader Alison Johnstone about people flouting lockdown restrictions at Portobello in Edinburgh on Wednesday, Ms Sturgeon said the gatherings put Scotland's progress in jeopardy.
She said: "When I saw the pictures of Portobello beach yesterday I almost felt like crying, to some extent.
"I know why people felt the need to do that and I completely sympathise, but every time we have people getting together in ways that provide opportunities for this virus, we risk the progress we have made together."
On the issue of testing, Ms Johnstone argued that if Scotland had used its full capacity, "we'd be better informed about the virus, we'd be better able to protect people, and we'd be able to move to the test, trace and isolate strategy at faster pace than we have".
Ms Sturgeon responded: "We will – for a long time, and perfectly legitimately – be debating the issues of testing, of what we did do and didn't do, and should have done and should not have done.
"I accept that, but we set out very early on the plans to build testing capacity.
"I remember standing in this chamber, a very early stage, talking about the priorities that we had for testing in this phase that protecting the sickest and most vulnerable, making sure that we tested key workers, and surveillance and monitoring.
"We've also set out, and we continue to set out, our plans for test, trace and isolate. I think it's really important that is aligned with the steps that we're taking to ease lockdown and what we have sought to build into the heart of this route map that we published today."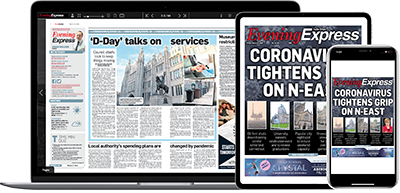 Help support quality local journalism … become a digital subscriber to the Evening Express
For as little as £5.99 a month you can access all of our content, including Premium articles.
Subscribe