Plans to deal with a possible upsurge of coronavirus cases in autumn or winter are "well under way", the Health Secretary has said.
Jeane Freeman said Scottish NHS boards have been told to keep extra capacity ready in intensive care units (ICU) and other wards.
She was asked about plans for a second wave of cases at the Scottish Government's daily coronavirus briefing on Tuesday.
The Health Secretary said: "The planning for autumn and winter is well under way in the NHS in Scotland, including discussions with our colleagues in social care.
"Our boards have been advised to hold a capacity to deal with an upsurge in Covid cases both in beds and in ICU.
"We're also factoring into that the infections and viruses that come with winter, flu and other respiratory conditions."
She added: "We cannot assume that our NHS will not have to deal with significant increases in Covid-19 cases, both in the hospital setting or in the primary and community care setting.
"We will position ourselves best to deal with autumn and winter the lower we bring infection numbers down right now."
First Minister Nicola Sturgeon said the more immediate risk is a resurgence of the first wave of coronavirus.
She mentioned the US state of California, which has reimposed lockdown restrictions after a spike in cases.
The First Minister said: "The real risk now is that the first wave takes off again.
"That's our immediate priority, to stop that happening – which is important for its own sake – but it's also important in making sure that we don't go into the winter months with infection levels still at too high a point."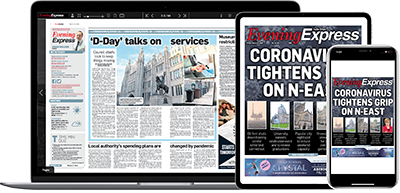 Help support quality local journalism … become a digital subscriber to the Evening Express
For as little as £5.99 a month you can access all of our content, including Premium articles.
Subscribe