A new edition of Muriel Spark's classic novel The Prime of Miss Jean Brodie is being published in China with a foreword penned by Scotland's First Minister.
Nicola Sturgeon announced the publication of the new Chinese edition of the novel – saying it "highlights the global appeal" of the author.
Arts chiefs say the foreword by Ms Sturgeon could make the new book a collectors' edition.
Dame Muriel Spark, who died in Italy at the age of 88, wrote more than 20 novels over her lifetime, including The Prime of Miss Jean Brodie – her most famous work which was made into an Oscar-winning film starring Maggie Smith.
The publication of the new Mandarin translation is part of a series of special events marking the 100th anniversary of the birth of Edinburgh born writer.
It was announced by the First Minister at a special event at Fudan University in Shanghai to celebrate both the author's centenary and China's year-long Inspiring Women in the Arts programme.
Ms Sturgeon said: "I am delighted that Chinese readers will be soon able to enjoy a new edition of The Prime of Miss Jean Brodie, and as a huge admirer of Muriel Spark's work I am honoured to be given the opportunity to write the foreword.
"This publication highlights the global appeal of Muriel Spark, and underlines her status as one of Scotland's best-loved writers. She has inspired countless female authors to take up writing, and I'm confident she will continue to do so.
"Scotland's creative industries are vital for the economy, and publishing plays an important role in that. The global programme of events being held to mark the 100th anniversary of Muriel Spark can only help to promote the spread and popularity of Scottish authors."
Nick Marchand, the British Council's arts director for China and North East Asia, added: "In a year of Inspiring Women in the Arts in China, we're delighted to support Scotland's celebrations of the Centenary Year of Muriel Spark."
Jenny Niven, the head of literature, languages and publishing at arts body Creative Scotland, said: "It is just fantastic that Muriel Spark's centenary is being honoured in China in this way.
"As a true internationalist herself I'd like to think Muriel would be delighted too that her work is being introduced to new audiences around the world.
"The First Minister's contribution of the foreword to the new translation of Miss Jean Brodie is a clear testament to the value that she places on reading and on literature – and will no doubt make the book a collectors' edition."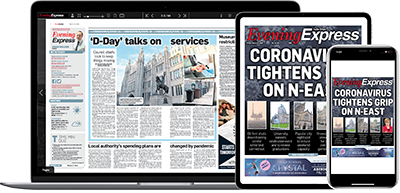 Help support quality local journalism … become a digital subscriber to the Evening Express
For as little as £5.99 a month you can access all of our content, including Premium articles.
Subscribe