The allocation of funding for Scotland's "hugely important" cultural and heritage sectors has been announced by the Scottish Government.
Nicola Sturgeon confirmed how the remaining £59 million of unallocated funding from UK Government consequentials will be spent, with money for freelancers, cultural venues, independent cinema and youth arts.
More than a third (£21.3 million) of the funding will be given to Historic Environment Scotland to support the reopening of its sites across Scotland.
A further £15 million will be used to create a "culture organisations and venues recovery fund to safeguard key parts of our cultural infrastructure", Ms Sturgeon said.
Speaking at the Scottish Government's coronavirus briefing, the First Minister said: "That fund offers support to commercial theatres, galleries, comedy venues, orchestras, theatre and dance companies, larger music venues, nightclubs, and production facilities and studios.
"Its aim is to protect jobs, offer increased opportunities for freelancers, remove the threat of insolvency and support a viable and sustainable future for organisations and venues."
The money comes from the £97 million in Barnett consequentials following increased UK Government spending announced in July.
More than £30 million had already been allocated by the Scottish Government, with support including emergency funds for museums, performing arts and music venues and to save jobs at the National Trust for Scotland.
Ms Sturgeon said Creative Scotland will announce how businesses and individuals can apply for the funding next week.
She said: "Our cultural and heritage sectors are hugely important to our economy but they're also really important to our wellbeing and our happiness as a country.
"They've been very hard hit by this pandemic and we are determined to do everything we reasonably can to support them.
"So we hope that today's package will provide some much-needed assistance to cultural organisations, artists and other freelancers across the country."
The specific allocation of funding includes £5 million to address the immediate financial hardship faced by creative freelancers, £5 million for artists developing new creative work, £3.5 million for independent cinemas and £3 million for youth arts such as the Youth Music Initiative.
Culture Secretary Fiona Hyslop said: "It's been an extremely trying time for everyone in the culture and heritage sectors over the last few months.
"The major issues presented by the pandemic are not going away but as we slowly start to reopen, this funding will provide much-needed emergency support and aid the recovery.
"We have taken time to work closely with and listen carefully to the sectors, to understand exactly what they need. We want to reach as many people as possible and I do believe these funds will make a marked difference in ensuring our culture and heritage sectors not only survive the pandemic but thrive in future."
Iain Munro, Creative Scotland chief executive, said: "We appreciate the challenges that everyone working in culture is facing and are pleased to now be able to offer some clarity.
"Creative Scotland will continue to work at pace to deliver this emergency funding to where it's needed as quickly as possible."
Responding to the news that money will be allocated to support comedy venues following a campaign from the sector, The Stand comedy club tweeted: "We welcome the news that @ScotGov and @CreativeScots have listened to our concerns and announced arts funding for comedy venues.
"We look forward to hearing the full details of what will be offered and assurances that a realistic amount will be ringfenced specifically for comedy to save our beloved industry and the hundreds of jobs that rely on it.
"We would like to thank all the comedians and members of the public who have given us their support and we hope to see them all back watching live comedy soon."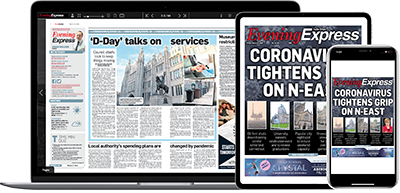 Help support quality local journalism … become a digital subscriber to the Evening Express
For as little as £5.99 a month you can access all of our content, including Premium articles.
Subscribe