Two men were rescued after they were seen clinging to an oil rig anchor chain after getting into difficulty in the Cromarty Firth.
The Invergordon lifeboat was sent by the coastguard to rescue the pair, who had become stranded on an anchor chain of the Well Safe Guardian oil rig on Friday evening.
They had been taking part in an open swimming session in the water, accompanied by a friend in a kayak for safety.
The men were caught up in a strong ebbing tidal current, found themselves in difficulty and made their way to the oil rig anchor chain, where they were spotted by crew who raised the alarm.
The kayak was pulled up the firth with the outgoing tide.
Trent class lifeboat Douglas Aikman Smith, Inverness HM Search and Rescue Helicopter Rescue151 and the all-weather lifeboat's daughter XP craft were all called to assist in the rescue.
The two men were rescued from the chain and brought back to Invergordon West Harbour. They were medically assessed but found to have no medical issues.
The rescue helicopter carried on to locate the kayak, which was farther up the firth, and marked it for the crew to recover once the two men were safe ashore.
Michael MacDonald, RNLI volunteer press officer and crew for Invergordon RNLI lifeboat, said: "Both Respect The Water and Float to Live key messages were passed over to the two individuals for any future trips."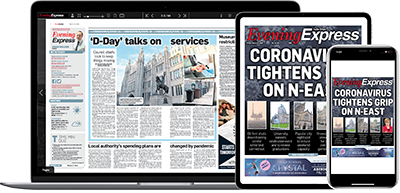 Help support quality local journalism … become a digital subscriber to the Evening Express
For as little as £5.99 a month you can access all of our content, including Premium articles.
Subscribe