The Scottish Government and housebuilders face a "significant challenge" to meet the target of building 50,000 affordable homes by March next year, a report has found.
A study by the Chartered Institute of Housing (CIH) Scotland found around half of the intended homes were built in the first three years of a programme to increase the housing supply.
The UK Housing Review report was carried out before the national lockdown in response to Covid-19, which has brought almost all construction to a halt.
The report examined housing data across the UK up to March 2019.
It examined progress in the Affordable Housing Supply Programme, a £3.5 billion initiative to increase Scotland's affordable homes by 67%.
The target is for 35,000 of these to be social rented homes, with 16,500 built in the first three years.
This means there were 18,500 homes to be built in the remaining two years.
The report also found affordable homes were being delivered in Scotland at a rate twice as fast as in England per head of population.
CIH Scotland is a professional body for people working in the housing sector.
The organisation's national director Callum Chomczuk said: "The current crisis has made it even more apparent how important a home is to every one of us.
"However, our report concludes that even with record levels of investment, and before the construction sector lockdown, that delivering 50,000 affordable homes by next March was going to be a significant challenge for the government and housing sector.
"Right now the overwhelming priority of the sector is to support our tenants and communities throughout this pandemic, providing care and supporting the most vulnerable that cannot leave their homes.
"But when we emerge out of this period it is crucial that the government reaffirms its commitment to working with the sector to complete the 50,000 affordable homes programme and agreeing how we build on it so that everyone has a safe and affordable home."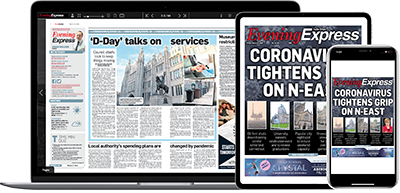 Help support quality local journalism … become a digital subscriber to the Evening Express
For as little as £5.99 a month you can access all of our content, including Premium articles.
Subscribe