The system for supply and demand of medicine fails to put patients first and is suffering from "inconsistent leadership and a lack of comprehensive, strategic thinking", a report by MSPs has claimed.
The inquiry by Holyrood's Health and Sport committee found there was a "lack of care taken to understand people's experience of taking medicines", with almost no usable data collected.
The inquiry found that "prescribers are instinctively reaching for the prescription pad" but said there was very little, if any, follow-up to ensure prescriptions were either working or even being taken, saying the end result was "at best waste, and at worst harm to the patient".
The inquiry has made 129 recommendations based on a "dismal failure to modernise NHS Scotland".
The report states an urgent overhaul of the entire system is needed to allow for a robust collection and analysis of data, ensuring the best patient outcomes and cost-saving for the NHS.
Committee convener Lewis Macdonald said: "Again and again throughout this inquiry we have seen that the default position of medical professionals is to reach for their prescription pad rather than consider lifestyle-focused alternatives to medicines, and this cannot continue.
"Our report last year detailed the value of social prescribing but it's clear that despite its many benefits, it is still considered a second-class option, if it is considered at all. This must change as a matter of urgency."
NHS Scotland spent £1.8 billion on drugs in 2017-18.
The report stated that gathering, analysing and sharing information on medicinal uses in a comprehensive, systematic way across Scotland would be the single most beneficial action to result from this inquiry.
Mr Macdonald added: "The failure to adapt, improve and modernise the current system goes beyond the supply and demand for medicines.
"We found the lack of care taken to understand people's experience of taking medicines impacted the system at every stage.
"The almost complete absence of data collection, or data sharing across the health service before the current Covid-19 crisis, or analysis of a medicine's impact on patients, is staggering. Quite simply, patients deserve a better system than this.
"Our evidence has made clear once again the profound failings of current health IT systems.
"These need to be completely overhauled so that data can be gathered, analysed and shared in a systematic way across the NHS.
"The scale of this task is undoubtedly great, but it is essential to quickly deliver a fit-for-purpose system which would improve patient outcomes, increase efficiency and reduce costs."
The report also questioned the limited accountability of GPs as external contractors and recommended community pharmacists play a greater role in patient care.
However, a Scottish Government spokeswoman said that there had been progress made in data collection – especially for cancer treatment and primary care.
She added: "This approach has been driven by senior clinicians, pharmacists, patients and senior leaders in the health service and we look forward to future developments in this area.
"The Scottish Government will work with the Committee and a range of stakeholders in taking forward further improvements to the systems that support the supply and demand for medicines and ensuring the best outcomes for the NHS and patients."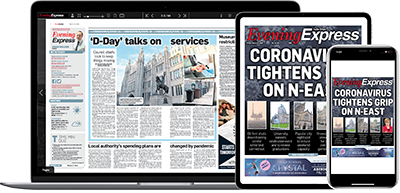 Help support quality local journalism … become a digital subscriber to the Evening Express
For as little as £5.99 a month you can access all of our content, including Premium articles.
Subscribe