The Scottish Government should adopt "common sense" improvements to coronavirus tracking proposed by an expert in public health, the Scottish Liberal Democrats leader has said.
Willie Rennie said ministers need to "catch up quick" with some other countries in tracking and reporting how the virus is spreading.
He urged them to follow advice given by Linda Bauld, Professor of Public Health at Edinburgh University, in a submission to the Scottish Parliament's Covid-19 Committee.
She calls for the Scottish Government daily Covid-19 statistics to be broken down by local authority – not solely NHS board – and wants improved reporting around age, sex, ethnicity and deprivation level for positive cases, those in hospital and deaths.
She said the reason should be added to the test in positive cases to enable differentiation of those having routine testing, such as care home staff, and those being tested as they either have symptoms or have been contact traced.
For the Test and Protect programme, the time taken to trace contacts should be published, she said.
She also highlighted examples from other countries, such as Australia, which tracks the number of incoming travellers who test positive, differentiating between domestic and imported cases and also provides information on whether sources of infection are known or not.
Mr Rennie said: "Professor Bauld's suggestions reflect both common sense and learning from the best international practice.
"These would be clear improvements to the tracking and reporting of how the virus is spreading.
"Scottish Liberal Democrats have been calling for months for precise local and sector breakdowns, information on the impact of travel and quarantine, and data on why positive cases presented for a test in the first place.
"The benefits would be significant. Tracking all this would show how quarantine is preventing the spread of the virus, how quickly tracers are catching up with people, and let those who were shielding understand the prevalence of the virus in their area and make more informed decisions."
He added: "Some other countries are way ahead of us in tracking and communicating how the virus is moving around. The Scottish Government need to catch up quickly. They could start by taking Professor Bauld's advice."
A Scottish Government spokesman said: "We are committed to the open and transparent publishing of data whilst protecting individual confidentiality and will keep the balance of transparency and confidentiality under review as the pandemic progresses to ensure we are providing the most useful level of information.
"The Scottish Government and Public Health Scotland publish a wide range of data on Covid-19 each day, at a national level and by health board area. In addition, every day, Public Health Scotland publish a range of data for each local authority area in Scotland in its dashboard.
"Meanwhile health boards and incident management teams also publish considerable local detail about outbreaks. Data on Covid cases at a neighbourhood level is also available each day to those public bodies who are directly responding to the epidemic in Scotland."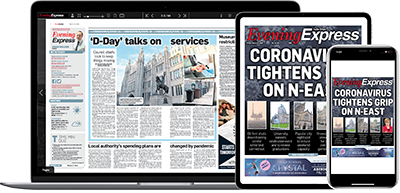 Help support quality local journalism … become a digital subscriber to the Evening Express
For as little as £5.99 a month you can access all of our content, including Premium articles.
Subscribe