There is no obligation on Nicola Sturgeon to sack John Swinney if a vote of no confidence in the Education Secretary is passed, Ken Macintosh has said.
The Presiding Officer of the Scottish Parliament explained that the motion of no confidence tabled against the Education Secretary would have to be debated if it is backed by 25 or more MSPs, but it would be an "expression of Parliament's opinion" and not legally binding.
Both Scottish Labour and the Scottish Tories have said they will declare no confidence in Mr Swinney, with the two parties made up of a combined 54 MSPs.
The Scottish Liberal Democrats and Scottish Greens are yet to state whether they will support the motion.
The motion was tabled on Monday morning, meaning a debate is not likely to take place before Wednesday as MSPs are normally given two days' notice ahead of a no-confidence vote.
Asked about the process of a motion of no confidence would work, Ms Macintosh said: "It requires 25 signatures, once it reaches 25 signatures it must be debated, the [Scottish Parliament's Business Bureau] must find parliamentary time for it to be debated."
He added: "Motions of the Parliament are an expression of the Parliament's will — an expression of the Parliament's opinion.
"So the consequences are for MSPs, politicians and the government to determine, not for the Parliament itself."
Scottish Labour tabled the motion following widespread criticism of the system to award grades to pupils in the absence of exams due to the coronavirus lockdown.
The Scottish Qualification Authority's moderation process saw 26.2% of grades changed during the moderation process based on criteria that included schools' historic performances – with a total of 124,564 pupils' results downgraded.
Pass rates for pupils in the most deprived data zones were reduced by 15.2%, compared with 6.9% for pupils from the most affluent backgrounds.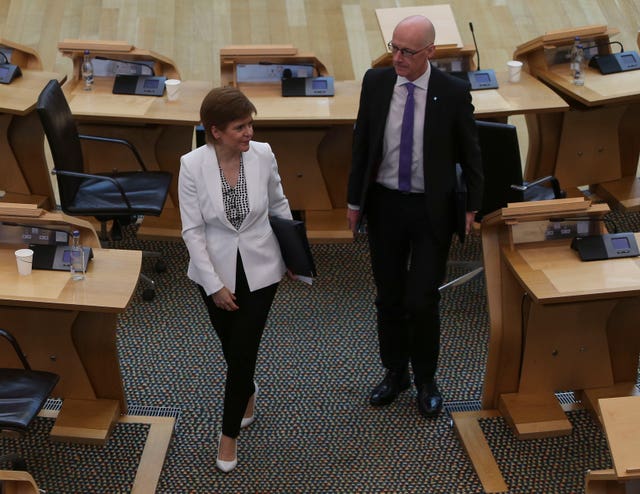 Both Mr Swinney and Ms Sturgeon initially defended the system, stressing that the appeals process would allow eligible pupils to challenge their results and arguing that it would not have been "credible" if teachers' estimates were not downgraded.
But following protests from pupils in Glasgow and cross-party criticism of the system, the First Minister announced that Mr Swinney would address Parliament on Tuesday and "rectify" the situation.
She said that pupils who had their exam results downgraded will not all be expected to appeal against them, apologising to them at Monday's coronavirus briefing.
Ms Sturgeon said that Mr Swinney still had her support and added: "When we get things wrong, I want to be able to stand here and acknowledge that and put it right, because I think fundamentally that's better than simply digging our heels in and trying to defend a position we think in our hearts we didn't get right.
"That's the approach I will take, it's the approach the Deputy First Minister is going to take and I hope that's the one that young people affected and their families will see as the right approach to take."
Scottish Labour's education spokesman Iain Gray said: "It is frankly hypocritical for the First Minister to apologise today after refusing to accept for over a week that an injustice had occurred.
"This apology is more concerned with protecting John Swinney's job than facing up to the failures of her government.
"Scottish Labour and other parties warned the First Minister and John Swinney for months and were ignored.
"A belated and forced apology is not good enough. We need an immediate return to the grades recommended by teachers for those who saw their grades reduced.
"It's time pupils and teachers got justice and Swinney got his jotters."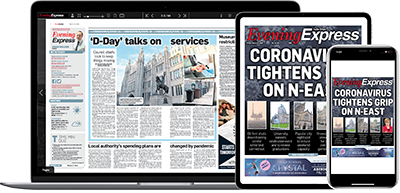 Help support quality local journalism … become a digital subscriber to the Evening Express
For as little as £5.99 a month you can access all of our content, including Premium articles.
Subscribe