The number of Scottish households hit by the benefit cap surged by more than three-quarters in the first two months of lockdown, according to official statistics.
Figures released by the Department for Work and Pensions (DWP) on Thursday show 6,034 were hit by the limit in May, compared to 3,428 in February – an increase of 76%.
Shelter Scotland and the Poverty alliance have warned the benefit cap is forcing families into hardship at a time when many have lost work to due to the pandemic, with the whole UK figure seeing a 93% hike.
Shelter Scotland director Alison Watson said: "With thousands of people losing work as a result of the pandemic, leaders across the UK should be focused on protecting families' incomes and keeping them in their homes.
"But, instead, the benefit cap is forcing families into poverty and hardship at the worst possible time.
"By increasing funding for crisis grants, the Scottish Government has gone some way to plug the gap in household budgets.
"But this problem needs to be tackled at source. The UK Government must scrap the cap."
Peter Kelly, director of Poverty Alliance, added: "Covid-19 has underlined how important our social security system is.
"But it has also shown how many gaps there are in our system of social protection.
"The benefit cap, in putting an arbitrary limit on household incomes, breaks the link between what people need and the support they receive.
"At a time when families across the country are struggling to stay afloat, the benefit cap is locking them into poverty – it must be scrapped now."
Of the households capped, 2,157 – 36% – saw their need assessed benefits docked by £50 or more per week, while 743 – 12% – lost £100 or more per week.
A total of 4,004 – 66% – of households that had their benefits capped in Scotland were single-parent families.
A DWP spokesman said: "The benefit cap ensures fairness for hard-working taxpaying households and a strong work incentive whilst providing a much-needed safety net of support.
"We remain committed to helping the most vulnerable in society, which is why we currently spend more than £95 billion a year on the benefits system, supporting more than seven million people."
SNP MSP Shona Robison said: "The SNP has long called for an end to the benefit cap, which hits families with children hardest.
"If the Tories were really serious about improving people's lives they would scrap this harmful policy now."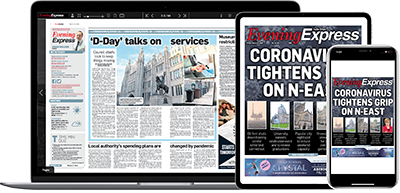 Help support quality local journalism … become a digital subscriber to the Evening Express
For as little as £5.99 a month you can access all of our content, including Premium articles.
Subscribe