Plans to align Scotland's laws with EU regulations after Brexit have been backed by the Scottish Parliament despite claims from Tory MSPs it will damage trade with the rest of the UK.
The Bill would give ministers discretionary powers to match Scots law and environmental standards with those of the European Union.
It would also establish Environmental Standards Scotland (ESS) to replace the EU's oversight of environmental law – although the government has controversially excluded climate change policy from the body's remit.
All parties except for the Scottish Conservatives backed the proposals at stage one.
During the debate, Constitution Secretary Mike Russell described the Bill as a "modest measure" to align laws and environmental standards.
Turning to the prospect of a no-deal Brexit and the UK Government's negotiations with the EU, Mr Russell added: "The people of Scotland did not choose Brexit, they certainly didn't choose this sort of disastrous no-deal Brexit, which is still a real possibility.
"Nor did they choose the equally bad low deal, which is the only alternative left on the table.
"That low deal is a painfully thin, job-destroying ideological muddle, which – if imposed in the middle of a global pandemic – the deep recession will cost every one of us dear.
"It beggars belief that any responsible government would even consider it, still less choose it."
Convener of the Environment Committee Gillian Martin said that although it supported the general principles of the Bill, members wanted climate change policy to be included within ESS's remit and urged the government to ensure there was transparency and it had independence.
"The climate and ecological emergencies, climate targets, commitments to maintain environmental standards and sustainable development must form part of any decision-making tools or assessments when deciding whether to keep pace," she said.
Scottish Conservative Dean Lockhart said the Bill was a "power grab" by government ministers and argued that it would "lead to Scotland becoming a regulatory no man's land" with increased costs for businesses and consumers.
Mr Lockhart said: "Following the additional restrictions announced earlier today, the priority for this Parliament must be to protect jobs and livelihoods and rebuild Scotland's economy.
"Instead, however, we are debating a continuity Bill that will do the opposite.
"Legislation that will impose barriers to trade, increase the cost of doing business and, ultimately, I'm afraid it will cost jobs and livelihoods across Scotland.
"Because there's no doubt this legislation will damage Scotland's trade with the rest of the UK and beyond."
Pledging his party's support for the plans, Scottish Labour's Alex Rowley accused the Scottish Conservatives of "lining up with Boris Johnson to attack the environmental rights of this Parliament and of the people of Scotland".
He added: "Scottish Labour welcomes the proposal for new environmental governance body Environmental Standards Scotland, but this has to be independent from government.
"We believe that climate change, individual cases and fiscal measures should all be included in the remit of this body and that exemptions to investigations should be prevented, or at least have to go through primary legislation."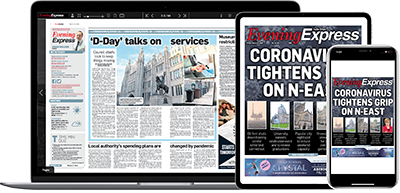 Help support quality local journalism … become a digital subscriber to the Evening Express
For as little as £5.99 a month you can access all of our content, including Premium articles.
Subscribe