Projects aimed at helping buses avoid heavy traffic will be able to receive a share of £10 million Government funding, Scotland's Transport Secretary has announced.
Michael Matheson told MSPs that the funding will be made available to local authorities for "short-term measures" that could help bus routes on the most congested roads.
The fund can be used for schemes such as new bus lanes and gates, with the hope of encouraging more people to use public transport because of the shorter journey times.
In a virtual statement to the Scottish Parliament, Mr Matheson suggested the Bus Priority Rapid Deployment Fund "will support local authorities in responding to the challenges of reduced public transport capacity and increase the effectiveness of the capacity that is available".
He said: "This £10 million fund will have light-touch processes to allow local authorities, working with bus operators, to put measures in place quickly where demand could potentially exceed capacity and congestion could reduce effectiveness.
"The fund is for short-term measures, but it presents an opportunity for local authorities to test interventions as they develop plans for longer-term investment in bus priority, so that we can lock in benefits for bus passengers and the environment.
"Bus priority can address the issue of congestion, making bus journeys more attractive and that in turn leads to mode shift from car, carbon savings and better air quality."
While encouraging people to opt for active travel – including walking, cycling and running – where possible, Mr Matheson said the funding was aimed at making bus travel more appealing.
"The bus sector is responding to not only increased operating costs during Covid-19, but also increasing congestion as restrictions are eased which will negatively impact on bus journey times," he added.
"By providing this support for bus priority infrastructure, we're directly helping bus passengers who we know typically have fewer alternative travel options – helping to improve journey times on congested routes."
Paul White, the Confederation of Passenger Transport director in Scotland, said: "Covid-19 travel restrictions demonstrated the potential journey time and reliability improvements possible if buses are freed from car traffic.
"It is critical we lock in these benefits and the resultant improvements in air quality."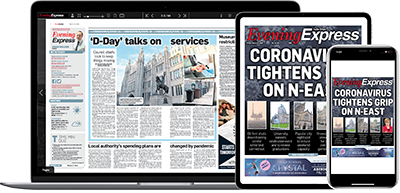 Help support quality local journalism … become a digital subscriber to the Evening Express
For as little as £5.99 a month you can access all of our content, including Premium articles.
Subscribe