First Minister Nicola Sturgeon has cancelled seeing her parents and said she understands people's frustrations after additional coronavirus measures were placed on Glasgow.
A spike in cases meant the Scottish Government issued guidance this week that indoor meetings are no longer allowed in the Greater Glasgow and Clyde health board area, including East Renfrewshire and West Dunbartonshire.
The First Minister said at the briefing on Thursday that Test and Protect data had shown the rise in the number of cases was caused by indoor social gatherings.
Given that Ms Sturgeon lives on Glasgow's south side, she was forced to cancel plans to see her family this weekend.
At the briefing, she said: "I totally get the frustration of this.
"I live in Glasgow, I was looking forward to seeing my mum and dad at the weekend for the first time – my mother could probably tell you the exact number of days – in well over a month.
"I was hoping to see them this weekend. I won't be able to do that, because they can't come to my house and, even though they don't live in the affected area, I can't go to their house.
"I'm not immune from living under these restrictions, I know how difficult it is and I know how frustrating it is, so I share that view.
"But equally, I know how damaging it will be if we don't take the necessary action to try to stem this spread before it becomes worse and we have to impose even stricter restrictions."
The measures will be reviewed after seven days, but are expected to last for at least two weeks.
The First Minister had previously celebrated a meeting with her parents in June, the first time since lockdown had been enforced in late March.
Ms Sturgeon was able to see family in the garden of her parents' Ayrshire home.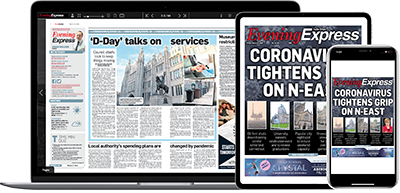 Help support quality local journalism … become a digital subscriber to the Evening Express
For as little as £5.99 a month you can access all of our content, including Premium articles.
Subscribe