First Minister Nicola Sturgeon has said the number of minority representatives in the Scottish Parliament is "not good enough" as she said no country is immune from racism.
Speaking at the daily coronavirus briefing, the First Minister highlighted just two current MSPs are from the black and minority ethnic (BAME) community and there has never been a BAME woman elected to Holyrood.
Labour's Anas Sarwar and Justice Secretary Humza Yousaf are the only BAME MSPs in Holyrood.
Just 1.5% of MSPs are from a non-white ethnic minority, compared to 4% of the population, as reported in the 2011 census.
Ms Sturgeon said: "I'm very privileged – and have been privileged for more than 20 years now – to be a member of the Scottish Parliament, I'm now First Minister in that Parliament.
"But the members from our minority ethnic communities that have been represented in that Parliament are tiny still and there has never been a woman from our minority ethnic communities elected to be a member of the Parliament.
"That's not good enough. All of us, as individuals and all the different parties across Scotland, have a real job to do to put that right as quickly as possible."
Ms Sturgeon said the Scottish Government does not employ enough people from the BAME community, something she said Permanent Secretary Leslie Evans is "very anxious to see progress on".
The First Minister said she sees the issues Scotland faces on race in her own Glasgow Southside constituency, one of the most ethnically diverse in the country.
"All of us have to recognise that every country has work still to do and that is about discrimination, it's about abuse or prejudice," she said.
The First Minister said if there is not proper representation in elected offices then societies "are in danger of never getting to a point where we are truly and properly representative of all the different strands that make up our country".
She added: "We've all got work to do there, none of us are perfect and none of us always get this right."
Her comments come as protests are held across the world over the death of 46-year-old black man George Floyd in the US city of Minneapolis while in police custody.
More than 5,000 people have been arrested in the US, with demonstrations held in Glasgow and further protests scheduled for this weekend.
In an interview on Friday morning, broadcast on the Hits Radio network, the First Minister said it is "sometimes hard not to conclude that" US President Donald Trump was racist.
Ms Sturgeon also told the briefing that, as people are critical of Mr Trump's handling of the protests which have sprung up following the death of Mr Floyd, "we also have to look at our own countries and ourselves, and make sure that we are all trying to do the right things".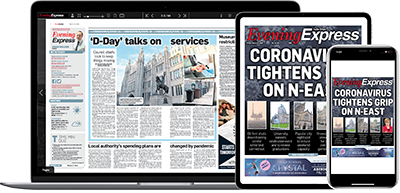 Help support quality local journalism … become a digital subscriber to the Evening Express
For as little as £5.99 a month you can access all of our content, including Premium articles.
Subscribe