Successful implementation of groundbreaking domestic abuse legislation is "still far off", Scottish Women's Aid has said, despite the new law coming into force a year ago.
Dr Marsha Scott, the charity's chief executive, said application of the law, which criminalises coercive and controlling behaviour, has varied across Scotland.
She said there were "mixed reports" from the organisation's 36 women's aid services across the country, saying while some receive "sympathetic and swift responses from the police and the justice system", in other areas "women feel nothing has changed".
The Domestic Abuse Act, passed by MSPs in February 2018, created a specific offence of domestic abuse that came into force last year.
It outlaws psychological and emotional maltreatment and coercive and controlling behaviour, when abusers isolate their victim from their friends and relatives or control their finances, as well as physical attacks.
The first anniversary comes as the coronavirus pandemic brings "unprecedented challenges".
Dr Scott said: "Unfortunately, it is our job to point out that domestic abuse is not taking a break for this virus and that robust implementation of the new law is now more urgent and important than ever.
"In fact, all indications from other countries and other epidemics is that children and women will need more protection and faster responses than ever.
"And the increased fear and danger that women and children are experiencing must not be considered acceptable because of the pandemic."
Scottish Women's Aid has been "encouraged by the way that the police and the Crown Office have embraced this new legislation", she added.
"We know they want it to succeed and that they are trying to be as robust and proactive as possible in making sure this law does what it says on the tin for women and children experiencing domestic abuse," Dr Scott said.
"While we have no doubt that this law has been embraced at a national level, we are convinced that successful implementation is still far off.
"We continue to hear mixed reports from our 36 local Women's Aid services.
"In some areas, women are getting sympathetic and swift responses from the police and the justice system. In other areas, women feel nothing has changed."
She added: "This mixed picture is no surprise, and we accept that the transformation of Scotland's criminal and civil justice systems was never going to be quick or easy.
"However, we cannot afford to be complacent and Scottish Women's Aid will continue to keep a close eye on how this legislation is being used for women, children and young people experiencing domestic abuse, calling for improvements where necessary."
Earlier this week, Police Scotland stressed tackling domestic abuse is still a priority amid the Covid-19 outbreak.
Detective Chief Superintendent Samantha McCluskey, of the specialist crime division, told the PA news agency: "Tackling domestic abuse is a priority for Police Scotland and this does not change despite the unprecedented and dynamic set of circumstances the country is faced with.
"While it may be too early to assess the impact of coronavirus (Covid-19) on incidents of domestic abuse, I can reassure the public that officers are continuing to work hard to prevent harm by identifying people who may be at risk."
Police Scotland recorded a total of 60,641 incidents of domestic abuse in 2018-19, an increase of 2% compared to the previous year.
A Scottish Government spokeswoman said: "We are absolutely clear that domestic abuse, including coercive and controlling behaviours, will not be tolerated.
"Supporting victims and survivors and holding perpetrators to account will continue to be a priority as we respond to Covid-19.
"We are aware of the pressures on services in these unprecedented circumstances, and are working closely with key partners to ensure that front line services supporting women and children experiencing domestic abuse have the tools at their disposal to provide that support.
"The Justice Secretary and Equalities Minister have spoken to Scottish Women's Aid and will continue dialogue with them and other organisations going forward."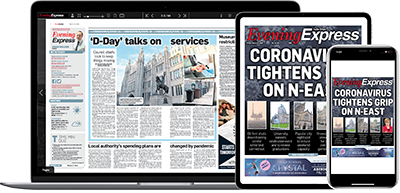 Help support quality local journalism … become a digital subscriber to the Evening Express
For as little as £5.99 a month you can access all of our content, including Premium articles.
Subscribe